Back to Blog
May 17, 2022
Homebuying Checklist for First-Time Home Buyers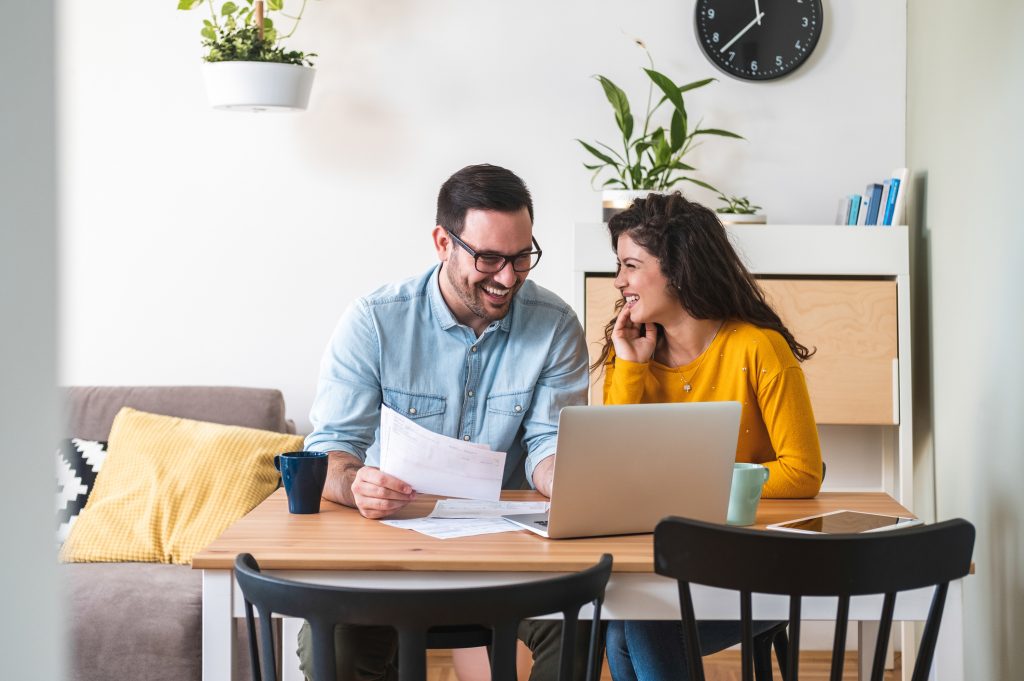 The home buying process is often shrouded in mystery. What's the first step? Should you look at homes or find a mortgage? What happens after you find a home? Do you need a home inspection? It's no mystery why people quickly feel overwhelmed!
There are several important steps you need to take before you begin the search for your first home. We put together this first-time homebuyer checklist to help guide you through the process.
Make sure you're ready to buy
Before you start touring open houses, sit down and determine if you're ready to buy your first home. You should be both financially and emotionally ready.
Think about your goals for the next few years and figure out if buying a home support them. Do you plan on buying a home by yourself or with a partner? Will you be starting a family? Has your employment been steady? Do you think you'll need to relocate for your job? Can you handle the added responsibility of maintaining a home? Can you afford the full cost of homeownership – which includes the mortgage, home insurance, property taxes, and maintenance? Your answers to these questions will determine if now is the right time to buy.
Get your finances in order
Before going out to shop for homes, determine how much you can afford. The last thing you want to do is fall in love with a home that's out of your budget. Mortgage calculators are a good way to estimate your budget (you won't know for sure until you go through the formal mortgage application process) by calculating your monthly income and expenses, location, and down payment. You'll get a general idea of how much your monthly mortgage payments might be.
You can use this step to prepare for having your financial history reviewed prior to applying for a mortgage. Start by checking your credit score and making improvements as needed. It's worth investing the time to raise your credit score because higher scores may qualify for lower mortgage rates. It's also good to make a plan for saving for the down payment if you want to save additional cash.
Get pre-approved
Don't save applying for a mortgage for the end of your search. Shop around for a mortgage lender to find the best terms and rates before you begin looking for homes. Lenders will formally review your financial history and provide the amount you're qualified to borrow. There are several benefits of getting pre-approved. Not only will you know exactly what you can afford, but you'll also be looked at as a serious buyer. We detail the additional benefits of getting a mortgage preapproval in this blog post.
Create your home wish list
Many first-time homebuyers get overwhelmed by the number of options available. It's not possible, or even necessary, to tour every available home. Instead, streamline the process by creating a wish list for your future home. Doing this before starting your home search will help you find the right home for your family situation and budget.
In addition to the size, the number of bedrooms and baths, and features you'd like in your home, here are a few other considerations to make:
Home condition: Decide if you'd like to buy a new construction home or an existing home. New builds are move-in ready and filled with the latest technology and design features buyers want. If you buy new, all you'll need to do is move in and unpack. Conversely, the condition of existing homes ranges from fixer-upper to move-in ready. Decide how much work you're willing to put in
Home type: Do you want a detached home or an attached unit like a duplex or townhome? If having a backyard is high on your priority list, a traditional detached, single-family home is ideal. If you live in a more populated area and don't want to worry too much about maintenance, buying a townhome in a managed community may be for you.
Location: What is your ideal location or neighborhood? In addition to common factors like safety, amenities, and even costs if it's part of an HOA, think about your lifestyle and needs. Do you want to be in an area close to shopping, dining, and entertainment? If you have children (or want to have children), a neighborhood in a good school district and close to parks and playgrounds is ideal.
Begin your house hunt
Now it's time to find a real estate agent and begin touring homes. Take notes on each home and compare how they measure up to your wish list. Remember: your wish list should not be written in stone. Chances are there isn't a single home that ticks every box but you can fall in love with a home that has most of your dream features.
Make an offer
When you've found the right home, work with your real estate agent to prepare an offer. The seller will either accept, decline, or present a counteroffer. You should be prepared to negotiate and provide a counteroffer if the seller declines. But don't worry, your agent will guide you through this process. Your offer should reflect the following:
Asking price
How hot the market is
If there were other offers
The length the property has been on the market
Once your offer is accepted, you'll need to be ready to put down the earnest money. Earnest money is a deposit you'll make for the home. It'll go into an escrow account while you complete the transaction.
Appraise and inspect the home
A thorough home inspection will identify any issues that may need to be addressed in the future and any necessary repairs. You'll be responsible for hiring and paying for the inspector (your realtor may be able to recommend someone). You may be able to negotiate with the seller for additional concessions if the inspector uncovers anything that wasn't in the seller's disclosure statement.
The appraisal process is separate from the inspection. Lenders use appraisals to make sure they're not lending more than the home is worth. Your lender will choose the appraiser but you'll be responsible for the cost.
Close on your new home
You're in the final stretch! Once you and the seller have agreed to terms, you'll move into closing. During this stage, the lender will finalize your mortgage application and prepare the closing documents. Here's what to expect at closing:
You'll receive the closing disclosure from your lender at least three days before closing
You'll have a final walk-through of the home
You'll pay the down payment and closing costs through a certified check or wire transfer
You'll need to provide proof of homeowner's insurance
You'll need to bring identification
Closing can take several weeks. While you can't speed up the process, here's what you can do to keep your closing on schedule.
Once the final paperwork has been signed, you'll officially be homeowners and receive the keys to your first home. Now all that's left is to organize your move and make it uniquely yours.
Ready to get started?
Whether you're buying your first home or your second, you'll find an attentive and supportive team here at Hayden Homes. Our experienced team will help you find the right home for your current stage in life. Contact us today and learn more about new home communities in Oregon, Montan, Washington, and Idaho.