Back to Blog
September 3, 2021
How to Figure Out What You Want in a New Home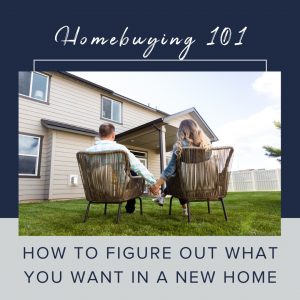 Finding the right home that fits your qualifications and desires can be overwhelming, especially as a first-time homebuyer! With so many options,  how do you figure out which new home is right for you?
Here are some tips to help as you're figuring out what you need and want your new home.
What does your heart desire?
Get the ball rolling by thinking about what would be in your dream home. Is it on a large lot in a quiet neighborhood? Is it a townhome closer to the city? How many bedrooms and bathrooms are there? Where is the master bedroom located? Put together a list of all the things that makes this house special to you?
Evaluate your current home
Walk through your home and take notes on what you like and what you wish your home had. Maybe you love how the kitchen is open to the living room but you didn't have enough storage space. If you don't like the layout, make sure your new home has a different one.
Here are some other factors to consider when coming up with your master list:
Location: While you can add a room or renovate the kitchen to your liking, you can't change where your home is located. Take time to settle on the area you want to live in. This should be one you're comfortable in and is close enough to what's important to you: work, schools, shopping, recreation or entertainment options.
Size and type of home: Determine the size and type of home you need. How much space do you actually need? Your current (and future) family size impacts how much room you need. Do you need outdoor yard space for young children or pets? Do you want a single-family home or do you prefer a townhome? Do you want a two-story home on a large lot?  Your new home should be able to accommodate you today and into the foreseeable future.
Special features: You should also consider any special features you'll need in your home. If you work remotely, a dedicated home office or space for an office will be a must have. Do you need a home that's wheelchair accessible? An enclosed backyard?
Prioritize into needs and wants
Have your list ready? Now comes the most important part: prioritizing your master wish list into needs and wants. This will help you remain focused on finding the home that satisfies your needs; anything on your wants list is simply icing on the cake.
As you're assigning your priorities, this is a good time to consider which features you're willing to pay more for, like a shorter commute, and which you could live without, like a three-car garage. Its important to know what you're willing to compromise on to find the right home that's within your budget.
You want to make sure you find the best house for your family. Knowing what your new home needs to have before beginning your home search will save you time and help you find the right home sooner.
Now that you've figured out what you need and want in your next home, it's time to go shopping! At Hayden Homes, we pride ourselves on building quality new homes. Whether you're looking in Idaho, Oregon, or Washington, our team can help you move into a home that's just right for you at any stage in life. We're excited to work with you to find your dream home!