Back to Blog
July 5, 2022
Design Tips for the Perfect Outdoor Kitchen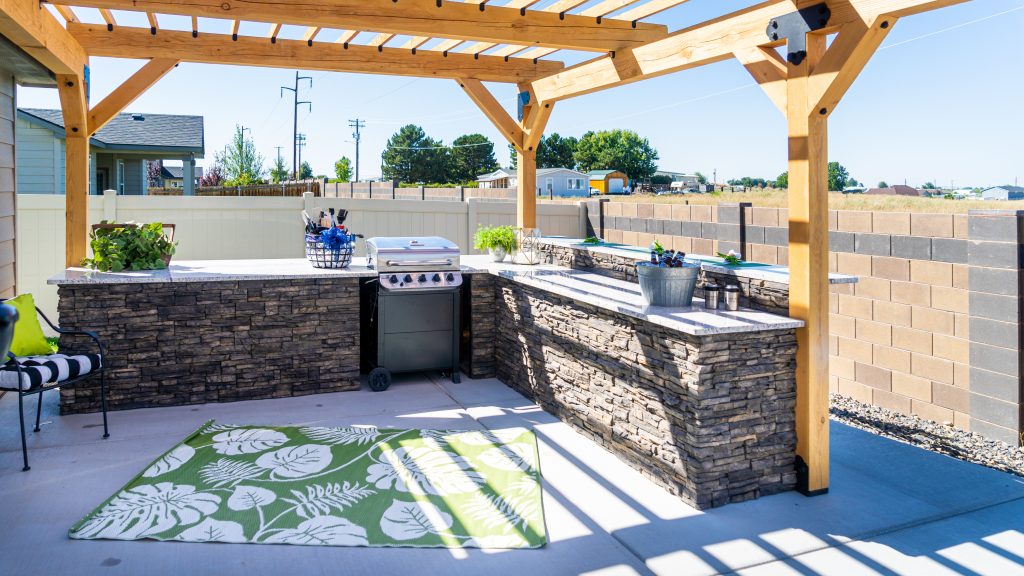 An outdoor kitchen is a great enhancement to the backyard. It gives you the perfect reason to enjoy your outdoor space with family and friends, especially during the summer months. Here are some tips to keep in mind as you're designing your dream outdoor kitchen.
What is your purpose?
The first question for every design project is intention: how do you plan on using this space? Knowing how you'll use your outdoor kitchen will help you decide the types of equipment and elements you'll need to include. What type of meals do you plan on making? Do you want an elaborate kitchen that contrasts with your indoor kitchen or are you happy with an upgraded grill station? Do you need a seating area for guests?
Assess your available space
The next step is to inspect your property to determine the best location for your outdoor kitchen. You'll want to choose a place that isn't too far from your home so you don't have to walk too far to fire up the grill. Be sure to consider wind patterns in your yard and avoid direct sun exposure. This is a good time to determine if you'll need gas or electrical lines and/or plumbing installed for your kitchen.
What's an outdoor kitchen without space to sit and enjoy your meal? Be sure to consider seating/entertaining options when choosing your location. It is important to have enough space for prep and cooking while entertaining your guests.
Measure your chosen location to determine how much space you have to work with. You'll want to make sure you have enough room counterspace for both cooking and prep and for your chosen cooking appliances, which brings us to our next tip.
Consider your cooking preferences
When planning for your new outdoor kitchen, figuring out the type of appliances is an important step in the planning process. With all of the options you can put in your kitchen – from upgraded grills, smokers, pizza ovens, and more, designing your outdoor kitchen can become an overwhelming process. By making sure to include necessary appliances, it will allow you to focus your budget on the elements that will actually get regular use. Here are some popular appliances for outdoor kitchens:
Grill and/or smoker
Pizza oven
Refrigerator
Ice Maker
Wine cooler/kegerator
Choose your materials
With your new enhancement being outdoors, it's important to select durable and low-maintenance materials that can stand up to storms, high winds, extreme heat, and even ice and snow storms.
Make sure your kitchen appliances are outdoor-rated. These are built to weather (pun-intended) natural elements and can resist corrosion and oxidation. You should never use indoor appliances in your outdoor kitchen.
Provide adequate lighting
Include task lighting so you can see when preparing and cooking food, regardless of the time of day. You can also add ambient lighting to your seating and entertaining area to create a nice and cozy setting.
These tips will help you create the perfect outdoor kitchen your family will enjoy. When you're ready to host your first backyard party to celebrate your new space, use these tips to keep everyone safe.
Are you looking for a new home with plenty of backyard space for your own outdoor kitchen? Hayden Homes can help. We build new homes in Montana, Idaho, Oregon, and Washington with plenty of space to create your dream backyard. We invite you to learn about our available new home throughout the Northwest. We're looking forward to welcoming you home!