Back to Blog
July 30, 2021
Tips for Safe Summer Barbecues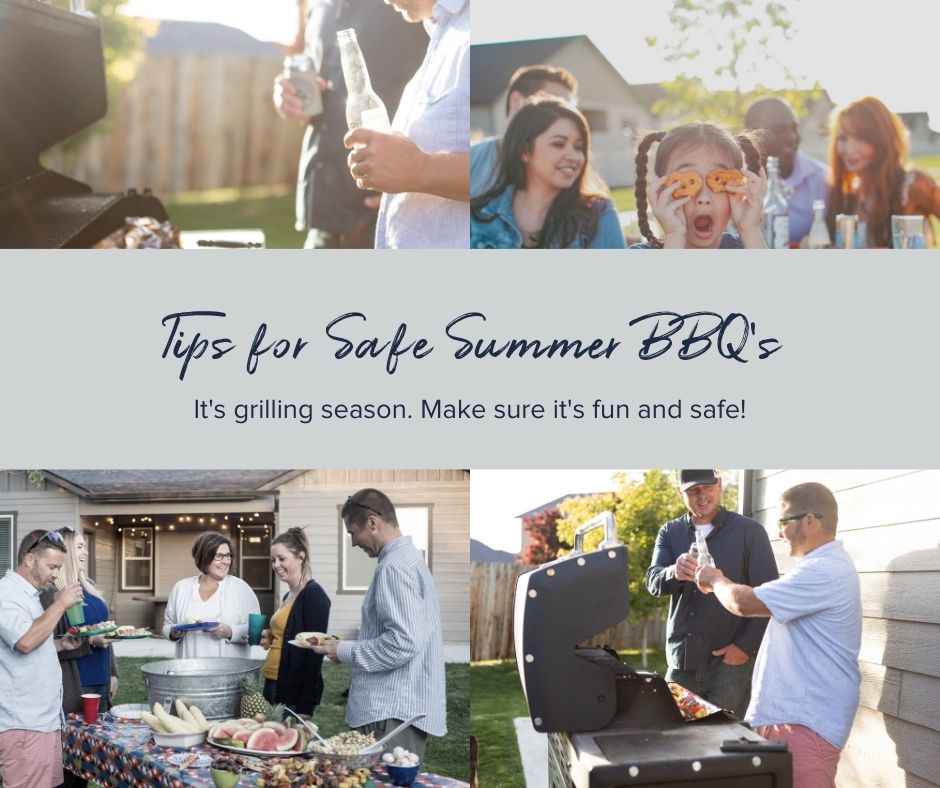 Once the warmer weather hits, the first thing we think about is firing up the grill. From family cookouts to a casual grilled dinner, grilling is a great way to enjoy the summer days and nights. If you're planning on hosting family and friends in your backyard this summer, here's some barbeque safety tips that will keep you safe all season long.
Place grill in a safe location
When looking for a location to place your grill, find one that is level and at least ten feet away from your home, garage, or any structure on your property. Avoid placing your grill under an overhang or low-hanging branches or anything else that can be damaged by fire or smoke.
Remember, grilling is an outdoor activity. Do not grill in the garage or other enclosed space. Not only is that a fire hazard, you'll also fill your home with carbon monoxide. If you want to grill year-round regardless of the weather, invest in an indoor grill that's specifically designed for this purpose.
Check for gas leaks
It's important to check your grill before you begin using it, especially ff you store your grill for months at a time. Leaks in the gas lines can cause propane or natural gas to build up inside a closed lid. So before lighting, open the lid and check the gas lines for leaks. To check for leaks, rub some soapy water on the hoses and connections and turn on the gas. Large bubbles will signify areas where the connections are not tight enough or hoses with holes in them.
Clean your grill regularly
Cleaning the grill is a unglamorous but necessary task. Grease and fat can build up on the grill plates and drip tray, causing dangerous flare ups. Regularly cleaning your grill results in better tasting food that won't stick to the grates. Get into the habit of cleaning your grill after every use.
Keep a spray bottle handy
Even with a clean grill, some flare ups may happen as fat and grease drips from food as it cooks. Keep a spray bottle filled with water on hand to extinguish smaller flames before they grow larger and keep smoke at bay.
Always have the grill supervised
Never leave a grill unattended while you're cooking. The high heat and open flames can potentially be a safety and fire hazard if left unsupervised. Plan ahead and gather everything you need before you start cooking. If you need to leave for any reason, have another adult keep watch.
Be ready to put out fire
Fire moves quickly so be prepared to handle the situation should it arise. Have baking soda on hand to take care of grease fires and a fire extinguisher for other flames.
Create a safety zone
Keep your kids and pets safe by creating a kid/pet-free zone of at least three-feet around the grill. Children under five accounts for about 39% of contact-type burns each year. Teach kids to stay away from the grilling area and tie up pets or keep them indoors while you're grilling. Remember, the grill will remain hot for a while even after you're finished cooking.
Wear appropriate clothing
Avoid wearing loose or hanging clothing that can catch fire around the grill. Wear clothing that won't come in contact with the grill and make sure apron strings are tied around your back.
Shut down correctly
When you're finished grilling, its important to shut the grill down correctly. Always wait until your grill is completely cool before moving it. For gas grills, turn off the burners and fuel supply. If you use a charcoal grill, soak the coals with water or wait until they're completely cool before tossing them in metal container.
With more people heading to their backyards to grill this summer, it's important to keep these safety tips in mind so you and your family can enjoy a safe barbecue season.
Do you need more backyard space? We can help. Hayden Homes builds new homes Idaho, Oregon, and Washington with plenty of space to create your dream backyard. If you're a homebuyer who's buying your very first home or a seasoned homeowner looking for their next home, we invite you to learn about our available new home throughout the Northwest. We're looking forward to welcoming you home!