Back to Blog
November 13, 2018
8 Tips to Help Prepare Your New Home for Winter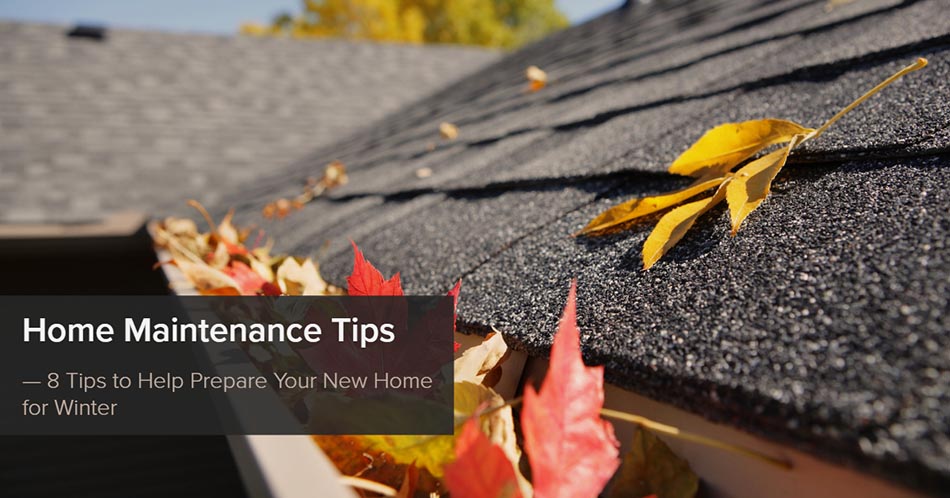 Caring for your home – especially a brand new home that you hope to keep in tip-top shape for years to come – is important. In the Northwest, where winters can be harsh, knowing and performing some basic winter maintenance musts is critical to the health of your home. Fortunately, winter maintenance is pretty straightforward.
Here are 8 tips to help prepare your new home for winter, to ensure you are keeping your dream home looking great.
Outdoor Maintenance Takes Priority
Maintenance for the outdoor area of your new home should take priority. Some outdoor tasks that absolutely need to be completed include:
Blow out your sprinkler lines, which will keep them from freezing when temperatures drop;
Clean up and cover outdoor appliances and tools, such as hoses (which should be stored and drained);
Remove leaves from gutters and drains – if leaves are left in gutters and drains over the winter, they can lead to clogs and other damage;
Keep an eye out for snow and ice buildup on your roof and around your home – any unusual buildup or runoff should be dealt with swiftly.
Of course, before the snow comes, you should also make sure you have a sturdy snow shovel ready to go. Removing snow promptly as it accumulates will reduce the work, help your home's foundation stay dry, and keep your family and guests safe.
Prepping the Inside of Your Home
While it's easy to focus on what's happening outside when winter is approaching, remember that the inside of your home requires some annual TLC too. To keep the inside of your home in great condition, be sure to:
Leave your heat on when you're out of town to prevent freezing of pipes. Our recommendation is to keep your heat at a minimum of 65 degrees Fahrenheit, while you are away. On especially cold nights, some homeowners will open up cabinets around water pipes to help prevent them from freezing when they are out of town.
Ensure your water heater and HVAC system are in good working order (fortunately, if you've purchased a new home, this shouldn't be an issue for years to come)
Check the batteries in smoke and carbon monoxide detectors, and change them if needed; and
Commit to changing air filters at least once every three months, and more if you have pets or anyone in the home with allergies.
Remember, if you notice anything out of the ordinary, don't hesitate to contact a local professional for maintenance and repairs.
Keep Your New Home Looking Great
Your new home will serve you well for years to come if you do your part too – which includes preparing your home for the coldest months of the year. For how-to videos and your seasonal maintenance checklist,  visit our
home maintenance page here.
If you are growing tired of all of the ongoing maintenance energy and repairs you're having to do on your older home, we can help. Hayden Homes has beautiful new homes for sale in Washington,
Oregon
, and
Idaho
, and we can assist you whether you're buying your first home or upgrading homes. Call us today to learn more.