Back to Blog
February 10, 2021
Common New Homebuyer Mistakes and How to Avoid Them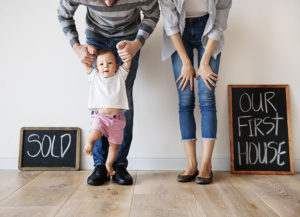 We know that when you are buying your very first home, it's an exciting and emotional time. We also know it can be stressful. There are a few things you can do to help alleviate some of these feelings and stress by educating yourself on these common mistakes, we see first time homebuyers make.
First, we'll cover a few financial mistakes and ways to avoid them.
NOT CHECKING ON YOUR CREDIT REPORT AND FIXING ERRORS THAT EXIST
This is one of the most important mistakes that is easily avoidable and can make a huge impact how much you can afford. If you don't work to build your credit, and you don't check your credit score regularly, your score may be lower than you expect. This can affect the interest rates you are eligible for when you're working on getting a loan. Even the difference of a few percentage points on a mortgage loan can cost or save you thousands of dollars in the long run.
How to avoid this mistake: Checking your score regularly (you can request a free credit report each year from each of the three main credit bureaus) can help you identify any errors that arise and ensure you get them taken care of and off your credit report quickly. This will not only give you peace of mind but, will help you build a good credit score.
NOT LOOKING INTO HOME LOAN OPTIONS SUCH AS VA, FHA AND USDA HOME LOAN PROGRAMS
If you're in the market for your first home, there are quite a few things to learn. One of which, is there are multiple home loan options to choose from. These include VA loans, available for veterans, as well as Federal (FHA) loans and several others. For many first-time homebuyers, finding ways to minimize your down payment may be important, and some of the government programs make it easy to buy a home with zero or a minimal amount down.
How to avoid this mistake: Take some time to lean about the various loan programs and determine what your goals are prior to selecting a specific loan program. We have a blog that covers each loan type in more detail to help determine which home loan type is right for you. Be sure you discuss these options with your loan officer as they will be able to assist you in making the right decision.
USING YOUR CREDIT BEFORE THE SALE IS FINAL
This is an important one, and one that you may not have thought about. The period between when you apply for your mortgage and when you close your home is critical. You'll want to leave your credit alone if possible.
Why? A lender's decision to give you a mortgage is based on your debt-to-income ratio as well as your credit score. Each time you apply for, or use your credit card, your score takes a minor hit and how much income you have compared to your total credit (debt-to-income ratio) decreases. Which isn't good from the lender's perspective, when they are deciding whether to give you a mortgage or not.
How to avoid this mistake: Don't make any large purchases or use your credit cards while you're in the process of getting approved for a home loan.
BITING OFF MORE THAN YOU CAN CHEW (FINANCIALLY)
Given the high demand for homes and the growing prices in many markets in which we build, this can be tough. However, it's important to understand and really dive into how much house you can afford. If not, you could end up looking at houses that you can't afford or visiting homes that are below your optimal price level.
For many first-time homebuyers, it's important to buy a home and get a mortgage with a comfortable monthly payment. Sometimes it's a good idea to aim low.
How to avoid this mistake: Use the mortgage affordability calculator on our website to help give you a sense of the price range that is affordable to you, what's a stretch and what's aggressive.
Next, here are a few common mistakes we see once you own your home and how to avoid them.
NOT CONDUCTING ROUTINE MAINTENANCE
On the plus side, you're considering purchasing a new home, which means you will have significantly less maintenance to do on your home than if you were purchasing a resale home. However, even new homes need a little TLC to help keep them in their best shape. This includes changing filters regularly, preparing your home for seasonal changes, and staying on top of routine maintenance.  This is the best way to ensure small problems don't turn into major repairs.
How to avoid this mistake: Not sure what to do or when? Visit the home maintenance page on our website for videos and seasonal home maintenance checklists.
WANTING TO MAKE MAJOR RENOVATIONS TOO QUICKLY
When you buy a new home, this is something you won't have to worry about. However, in the event you do want to make some changes, as tempting as it might be to make immediate changes, doing so could be a decision you end up regretting.
How to avoid this mistake: Live in your house for a few months to get a better feeling of what you like and what you don't. Then determine what are your priorities and come up with a plan and budget before making any major changes.
In conclusion, while there may be other common mistakes out there, these are a few of the top mistakes we see people making and how best to avoid them.  If you're in the market for a new home or have additional questions, our team of highly educated and trained sales professionals can help. Contact us today to learn how you can turn your dreams of homeownership into reality!