Back to Blog
June 17, 2019
Your Guide to Effortless Backyard Entertaining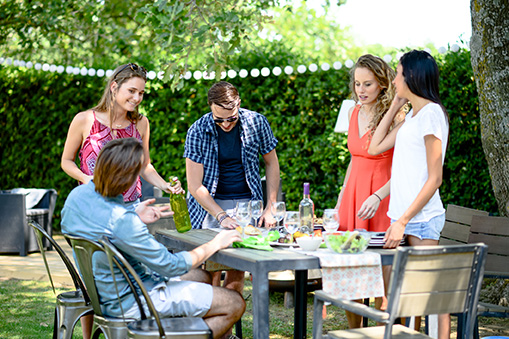 The summer months are a magical time in the Pacific Northwest. Not only is it the perfect time to explore the great outdoors, it's also a fantastic time to host family and friends in your Hayden home.
Whether you're planning a casual outdoor dinner for the family or a full-blown fiesta, here's your guide for hosting an effortless backyard party with minimal stress.
Keep the menu simple…and weather friendly
Whatever you decide to serve your guests, make sure to choose items that can hold up outdoors. If you decide to serve dairy-based items like dips or salads, simply place smaller containers in a large bowl filled with ice and a sprinkle of kosher or rock salt to keep it cool.
Another way to keep the hosting stress at bay, choose menu items you're comfortable making. It's tempting to try new recipes to wow your guests, but cooking an untested recipe can be stress inducing. Instead, rely on an array of signature meals you know you can make quickly and easily. If you still want to try something new, limit yourself to just one new recipe.
Light it right
Proper lighting can make or break your outdoor soiree. Instead of turning in once the sun sets, make sure your backyard has ample light. Hang café-style string lights around the deck or along the fence. You can also use flameless pillar or votive candles as additional light sources.
Double check seating
Avoid scrambling the day of by taking stock of your seating options before your party. This will give you ample time to purchase or borrow additional seating as necessary. Opt for lightweight chairs that can easily be stored in your garage when not in use.
Combat bugs
Nothing sours a fun outdoor get together quicker than unwelcome bugs. If mosquitoes are a threat, remove any standing water (that's where mosquitoes breed), plug in some outdoor fans (they don't like moving air), and offer guests bug wipes. You can also keep mosquitoes at bay with citronella candles or use natural repellents like lavender, mint, tansy, and rosemary as table arrangements.
And some finishing touches
Now that you've covered the basics, it's time to add the small details that will make your guests look forward to the next party.
Set up some lawn games like corn-hole, ring toss, croquet, giant Jenga, or even ladder toss to keep both kids and adults entertained.
Keep some blankets or a movable fire pit or heater on hand to keep your guests cozy well after sunset.
Create a fun playlist of music (aim for about 5 hours of music) to play in the background. Just keep it at a level so people can easily converse.
These tips will make your next backyard gathering the social event of the summer! Have you been thinking of buying a new home? Or perhaps want a home you can entertain in? Why not enter to win your own dream backyard? Enter to win from June 15th – August 31st, 2019 here!