Back to Blog
April 24, 2017
Why Buy New? The Advantages of Buying a New Home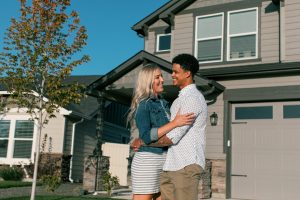 Whether you are currently renting and you are ready to become a first-time homebuyer, or you own your home but are looking for something nicer or in a different location, you are faced with a choice: buy a brand new home, or buy a used home. While both have their advantages, buying a new home has some major advantages for the following reasons.
1. Energy Efficiency
If you have ever upgraded an old appliance to a newer energy efficient model, a furnace for example, then you have surely seen the money savings. What a great feeling it is to save money and promote sustainable energy, which is why buying a new home rather than a drafty older one is one of the top reasons Hayden Homes' customers decide to buy new! Our new homes are equipped with energy saving windows systems and appliances. Which in turn, can add a little extra cash, in saved energy expenditures, to your wallet over time.
2. Personalization
If you are buying a new home, then you have the opportunity to make personalized decisions about YOUR home – colors, finishes and fixtures. Of course, it also means that you get to choose your floor plan, number of rooms and more. This can be great if you have always dreamed of a huge walk in closet, a home office, a spare bedroom, a home gym, or something else that personalizes your home. We invite you to explore our exciting home plan gallery, and please contact us with any questions you may have regarding personalizing your home.
3. Reduced Maintenance
Older homes need a lot of TLC when it comes to maintenance musts, ranging from fixing that leaking roof, to repairing the water heater, to replacing the carpet. The list goes on and on and on. If you simply want to enjoy your home without having to worry about constant repairs and maintenance, then buy new. Don't let your used home take up your valuable time. The choice is yours. You can spend your evening hours and weekends doing things like painting and caulking, or you can spend that time where it matters – enjoying your hobbies, playing with your kids, or hosting friends and family.
4. Safety (Especially If You Have Kids)
You want your home to be as safe as possible, especially if you have little ones – or plan to have little ones – running around. Unfortunately, used homes aren't always as safe as they should be. Dangers ranging from defective electrical wiring or outlets, lead paint and asbestos, to garage doors without automatic reversal systems…these can create unnecessary risks. With a new home, you can rest assured in knowing that each part of your home meets the current safety standards.
5. Warranty
Not only do you get that prized new home feel, but when you buy a new home, the materials and products in your home will be under warranty. This gives you peace of mind that if anything breaks down or stops working, you'll get it fixed or repaired free of charge. Also, if you haven't heard about Hayden Homes' one-year builder warranty, you can enjoy your new home knowing that we'll be here long after you get the keys to your beautiful new home.
6. Find Your Dream Home Today
If you are ready to start looking at new homes in the best communities the Northwest has to offer, Hayden Homes is here to help. Get in touch with us today to browse our selection of new homes, schedule a showing, or learn about financing options for those with approved credit.