Back to Blog
September 30, 2019
Visit the Newly Renovated Tollgate Path in Sisters, Oregon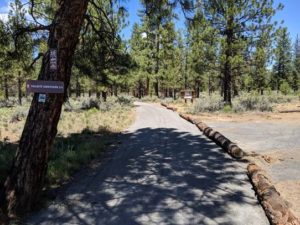 Many years ago Hayden Homes provided assistance in building the original Tollgate Path in Sisters, Oregon. 16 years later, we are proud to support the much needed rehabilitation efforts that went in to the trail. This project began in April and was spearheaded by Kris Calvin and his dedicated hardworking volunteer crew from the Sisters Trail Alliance. A total of 583 documented volunteer work hours were accrued!
Through the support of a generous benefactor, along with Kris's coordination of the work, equipment needs and Sisters Trail Alliance volunteers, essential enhancements were made to the trail to benefit to the Sisters community at large.
A quote from Kris sums up the benefits: "Hayden Homes, via their awesome excavation Contractor, Shamrock NW, led by Ian Woodford, provided us use of their track Bobcat, roller compactor and water trailer. When picking up their equipment [that] morning, Ken Matlock, project lead for Shamrock NW, took one look at the south trailhead and said, 'I'd like to get my son out here.' I asked him why. He said, 'Well my son is wheelchair-bound, and they don't normally build trails suitable for wheelchairs. This one looks like it might just work for him.' Holy moly… doesn't get much cooler and eerily coincidental than that!"
Be sure to check out and enjoy the newly rehabilitated trail, located HERE!