Back to Blog
September 9, 2023
Save Big on Your New Home with Hayden Homes' Trusted Lenders
Navigating the complexities of home financing can be challenging, particularly in a fluctuating market. That's why partnering with Hayden Homes' trusted lender can be greatly advantageous. Due to our longstanding association with these trusted financial partners, our customers often have access to competitive loan opportunities that could potentially lower their interest rates. In this blog post, we will explore the benefits of using one of Hayden Homes' trusted lenders and how it can help you save big on your new home purchase.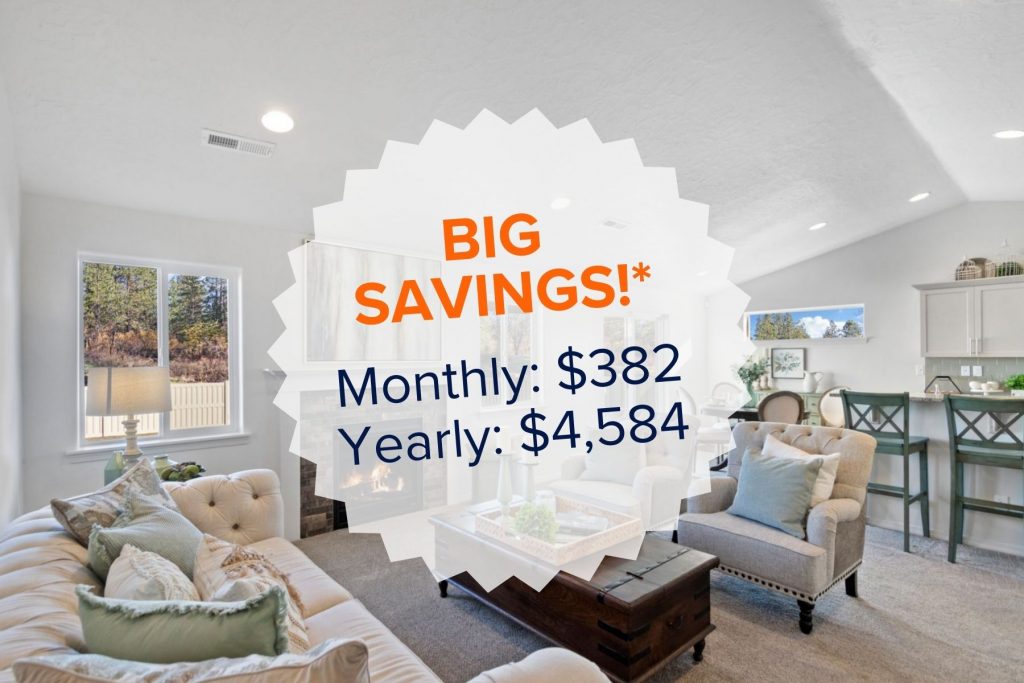 Savings Potential with a Trusted Lender
Hayden Homes' trusted lenders understand the intricacies of the current market and continuously keep track of any significant changes, helping our customers secure the best possible mortgage options. By reducing the interest rate, the overall cost of the home decreases over time, providing a financial benefit.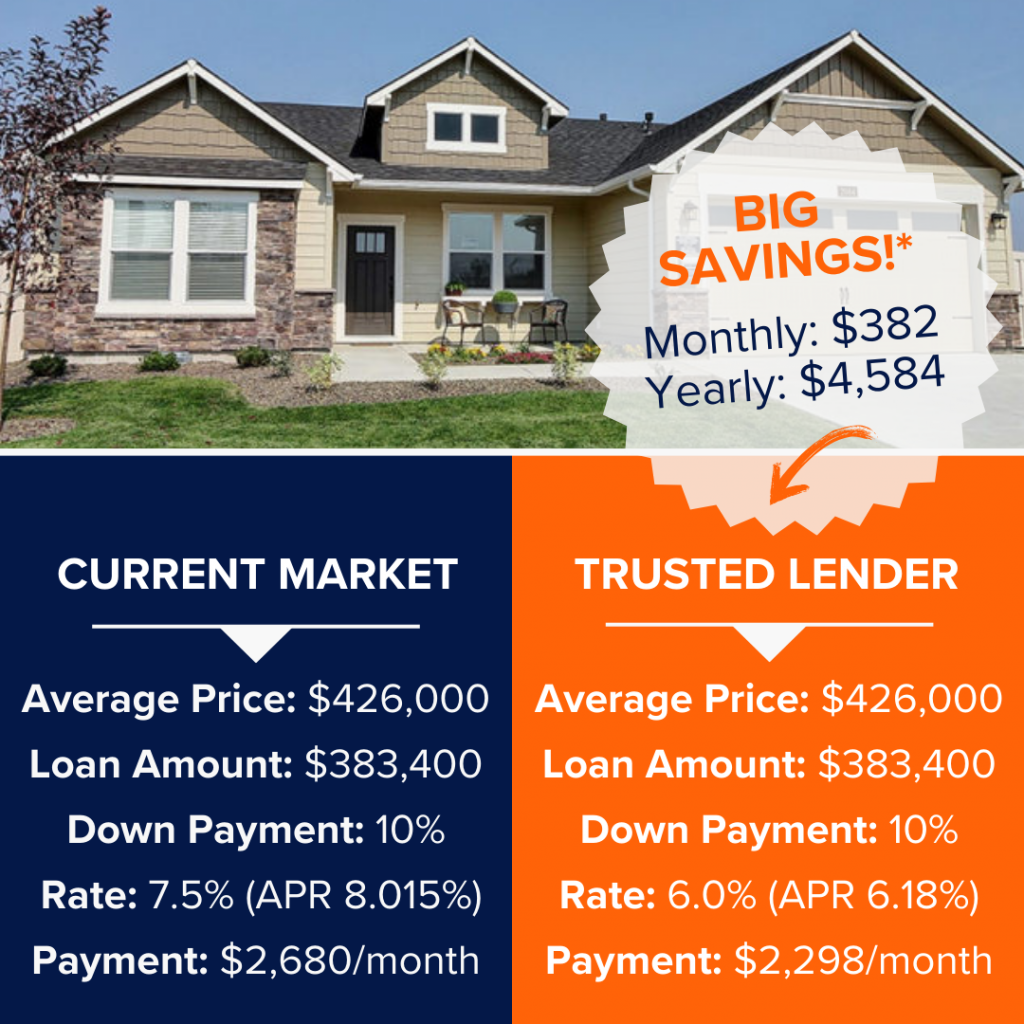 Let's compare a market rate scenario with an average sales price of $426,000 and an interest rate of 7.5% to a rate buydown scenario with the same sales price but an interest rate of 6.0%. In the market rate scenario, your monthly payment would be $2,680, while in the trusted lender scenario, it would decrease to $2,228. This translates to monthly savings of $382 and yearly savings of $4,584! Over two years, you could potentially save up to $9,168 – which is when you may qualify for a significant rate decrease and potential refinance opportunity down the line. And over seven years (the average duration in a home), you could save an impressive total of $32,088! By choosing one of Hayden Homes' trusted lenders and securing a lower interest rate on your mortgage loan, you can enjoy substantial long-term savings on your new home purchase.
Additional Benefits to Using a Trusted Lender
1. Incentive Dollars for Builder's Customers:
When you choose to work with one of Hayden Homes' trusted lenders, you become eligible for incentive dollars specifically designed for their customers. These incentives can be used towards closing costs or other expenses associated with your new home purchase, helping you save money right from the start.
2. Commitment to On-Time Closing:
One of the biggest advantages of working with a trusted lender is their commitment to ensuring an on-time closing process. They understand the importance of meeting deadlines and will work closely with you and Hayden Homes to ensure a smooth and timely closing experience.
3. Dedicated Team for Builder's Customers:
Trusted lenders recommended by Hayden Homes have dedicated teams that specialize in working with builder customers like yourself. This means they are well-versed in the unique systems and processes of building a new home, allowing them to provide tailored guidance throughout every step of the financing journey.
4. Knowledge of Builder's Systems and Processes:
By choosing one of these trusted lenders, you benefit from their extensive knowledge of Hayden Homes' systems and processes. This familiarity ensures seamless communication between all parties involved, resulting in fewer delays or misunderstandings during construction.
5. Extension of Builder's Team:
Trusted lenders are not just independent entities; they are considered an extension of Hayden Homes' team itself! Their strong relationship with the builder allows for efficient collaboration between all parties involved in your home purchase, ensuring a cohesive and streamlined experience.
6. More Transparent and Frequent Lender Communication During Construction:
When you work with a trusted lender, you can expect more transparent and frequent lender communication throughout the construction process. They will keep you updated on important milestones, financing progress, and any necessary documentation requirements. This level of communication helps to alleviate stress and keeps you informed every step of the way.
Partnering with one of Hayden Homes' trusted lenders offers numerous benefits, plus they can help you save big on your new home purchase. From incentive dollars to dedicated teams and transparent communication, these lenders are committed to providing an exceptional financing experience tailored specifically for customers like you. And, they help you secure the lowest possible interest rate to save big on your new home. Contact us today to learn more!
*Up to $25,000. Offer valid on select homes in select Hayden Homes communities. Must be pre-approved on a Hayden Home with Premier Mortgage Resources, Academy Mortgage Corporation or CMG Mortgage Inc. This offer must be presented at time of loan application. No Cash Value. Valid for home loan purchase or refinance only. Offer expires 10/31/2023. Premier Mortgage Resources, Academy Mortgage Corporation and CMG Mortgage Inc. are not affiliated with Hayden Homes. Offer and terms are subject to change without notice. © 2023 Premier Mortgage Resources, LLC | NMLS #1169 | Equal Housing Opportunity. Not an offer to extend credit or a commitment to lend. Licensed in AL; AZ – BK #0937529; CA – Licensed by the Department of Financial Protection and Innovation, under the California Residential Mortgage Lending Act; CO; FL; HI; ID; IL; KS; MD; MN; MT; MO; NV; OR; SC; TN; UT; WA; and WY. Retail lending is not conducted in all states. Not all branches or MLOs are licensed in all states. © 2023 Academy Mortgage Corporation | Corp NMLS #3113 l Equal Housing Lender. © 2023 CMG Mortgage Incorporated | Corp NMLS #1847974 l Equal Housing Lender. Payment is an illustration only to show potential savings difference in rates with the incentive and may not be actual interest rates. Hayden Homes is not a lender. See Trusted Lenders for actual rates, payments, and APR. This reflects a conventional loan with a 30-year fixed rate of 5.750% on a loan amount shown above in price, after 10% down payment. May not include all taxes and insurance. Six-month interest rate lock included. For complete details on payment and interest rate information, contact our Community Manager. Some restrictions may apply. Prices subject to change.