Back to Blog
March 12, 2020
Tips for Buying a Pet-Friendly Home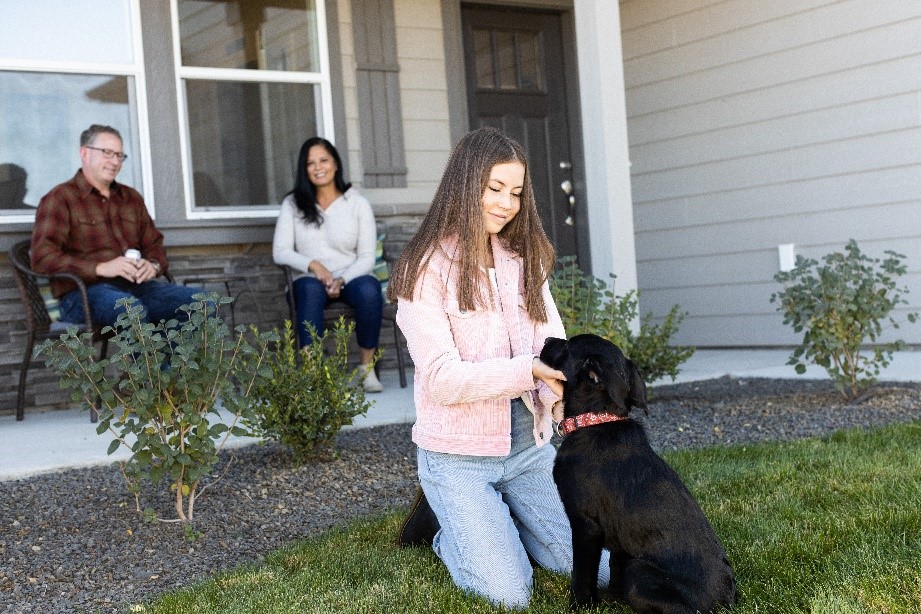 For many of us, our four-legged pets are part of the family. There's no denying they often hold a special place in our hearts! Just like you consider the needs of each of your family members, it's important to think about what your pets will need in a new home as well. Here are a few tips to make sure your new home is not only people-friendly, but also pet-friendly!
Consider Your Pet's Needs
When thinking about the features you need in your next home, don't forget about your pets! Be sure to consider your needs now and in the future.
Flooring. Look for a home that is built with durable flooring. Most homeowners opt for engineered hardwood, tile, or laminate flooring instead of carpet since they are easier to clean and keep cooler during warmer days.
Layout. Consider the home's layout while touring. Make sure your pets will be able to easily move from room to room and that there will be plenty of room for everyone (and their stuff!). Be sure to consider your pet's age and physical abilities: do you have an elderly dog that may have trouble navigating stairs? If so, a multi-level home may not be the best idea.
Yard space. A fenced-in yard is the top feature most homebuyers consider, especially dog-owners. Make sure the fence is sturdy and does not have any gaps that could lead to potential escapes. Also check that the plants are non-toxic.
Research Local Rules and Regulations
Be aware of any local rules and regulations that may restrict the number or types of pets you may have. Just because you own your home doesn't mean your pets may be welcomed! Be sure to check with your city and state for breed-specific laws and limits. There may be additional requirements for pet owners to follow.
Find a Pet-Friendly Community
You'll want to make sure your neighborhood is welcoming to pets. When touring homes, check out the neighborhood and see if there are any other pet owners in the area. Seeing other pets in the neighborhood is a good sign that pets are welcomed in the neighborhood. Be sure to notice how much street traffic is occurring as well!
Also take note of any pet services or amenities near your home: are there sidewalks or a dog park where you can safely walk your dog? Are there any veterinarians, pet sitters, groomers, or walkers nearby? How close are pet stores? Knowing if these amenities are close by will make it easier to maintain your pet's health and happiness.
Find Great Pet-Friendly New Construction Homes
Finding a home that's comfortable for every member of your family is possible! At Hayden Homes, we build attractive, friendly communities in Idaho, Oregon, and Washington. Get in touch with us today to learn more about our brand-new homes for sale in the Pacific Northwest. We can't wait to help you find your dream home.