Back to Blog
August 15, 2023
Staging a House to Sell: Ultimate Guide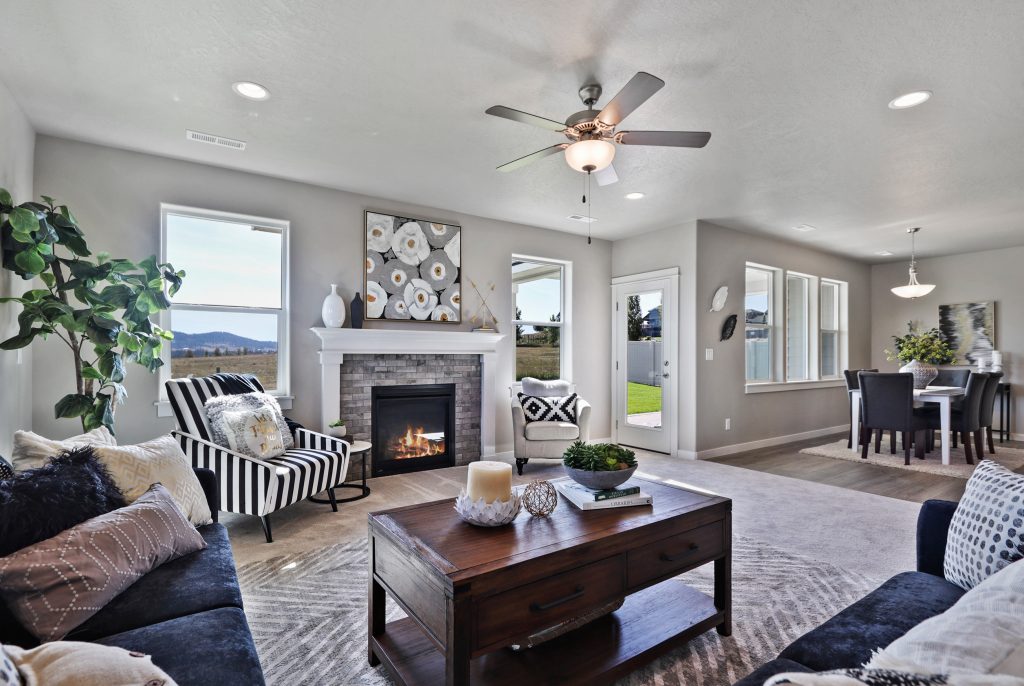 Selling a home can be an emotional and stressful experience, especially when you're hoping to get the best possible price for it. You want prospective buyers to fall in love with your home and picture themselves living there. That's why home staging is so important.
Staging a house is the art of decorating and presenting your home in a way that highlights its best features and creates an ambiance that helps prospective buyers to picture themselves living in the space. Here are some home staging tips that can help buyers fall in love with your home.
Clean and Organize
A clean and organized home is key when it comes to home staging, and it's important to focus on both the interior and exterior of your home. Make sure to deep clean your home, removing any grime or dirt build-up. Organize all closets, cabinets, and drawers to create a clean and tidy appearance. Make sure that your outdoor areas are also cleaned up: mow the lawn, pull weeds, and power wash any outdoor surfaces. Curb appeal can make all the difference when it comes to attracting potential buyers.
Depersonalize and declutter
When buyers come to see your home, you want them to focus on the space itself, not your personal belongings. That's why it's important to depersonalize your home by removing family photos, personal items, and anything that could be considered controversial or offensive. You should also declutter your home by getting rid of any unnecessary items. This gives the buyer a clean and neutral canvas to work with when viewing your home. The idea is to help potential buyers visualize themselves living in the home, and not be distracted by clutter. Try to create clean and open spaces that showcase the unique features of your home.
Invest in Good Lighting
Lighting plays an important role in the home staging process as it can help to create a warm and welcoming atmosphere. Start by opening all the curtains and blinds in your home to allow natural light to flood in. If your home lacks natural light, consider adding table lamps, floor lamps, and pendant lights to create a warm and cozy ambiance. Good lighting can make all the difference when it comes to showcasing your home in the best possible light.
Highlight your home's best features
Every home has something that makes it special, whether it's a beautiful fireplace, a stunning view, or a spacious backyard. When staging a house, you should highlight these features by arranging furniture and accessories in a way that accentuates them. For example, if you have a large picture window with a great view, make sure that the furniture is arranged in a way that allows potential buyers to enjoy it.
Create a neutral color palette
When it comes to home staging, less is usually more. That's why it's a good idea to use a neutral color palette throughout your home. Neutral colors make spaces feel larger, brighter, and more welcoming. You don't have to stick to white or beige, but choose a color scheme that's simple and classic. This will make it easier for potential buyers to imagine themselves in your home.
Invest in small upgrades
Small upgrades can make a big difference in the appeal of your property. Consider investing in simple upgrades such as new cabinet hardware, fresh paint, or new curtains and throw pillows. These small changes can add value to your home and improve its overall appearance. Keep in mind that the upgrades should be within a realistic budget to ensure that they don't eat into your profits.
Use accessories to create a warm and welcoming atmosphere
Adding accessories like candles, throw pillows, and artwork can help to create a warm and welcoming atmosphere in your home. As you're staging your home, think about the impression that you want to give buyers. If you're hoping to create a cozy, family-friendly atmosphere, for example, consider adding blankets and pillows to the living room.
Get a fresh perspective
It's always a good idea to get a fresh perspective on your home staging efforts. Ask a trusted friend, family member, or real estate agent to come in and provide feedback. Try to view your home through the eyes of a potential buyer and make necessary changes where needed. Sometimes a small tweak can make all the difference when it comes to helping buyers fall in love with your home.
Staging a house can be a game-changer when it comes to selling your home quickly and for the best possible price. By following the tips, you can help potential buyers fall in love with your home and envision themselves living there. Remember that first impressions are everything when it comes to selling your home and taking the time to stage your home is an investment that can pay off in the long run.
Find your new home with Hayden Homes
Once you're ready to sell your current home, it's time to start looking for a new one. We build new homes and communities throughout Oregon, Idaho, Montana, and Washington. Visit us at Hayden-Homes.com to learn more about our neighborhoods, view floorplans, and find the right home for your family.