Back to Blog
October 14, 2020
New Homes for Sale in Sisters, Oregon
Have you been looking for a beautiful place to live that's in the heart of nature, offers a small-town feel, yet isn't so removed that you can't easily access the city? If so, Sisters, Oregon may be the place for you. Sisters is not only one of the most scenic places to live in the country, but Sisters, Oregon real estate is hot right now, with brand new, never-before-lived-in homes available now.\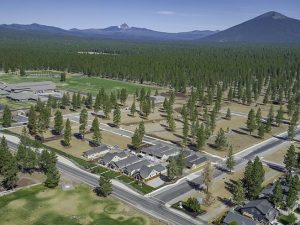 What You'll Love About Sisters, Oregon
Sisters is a quaint city in Oregon, with a population of over 2,000, although the area is quickly growing. The city has many families, with about half of the population attending school at one of Sisters' four public schools (one elementary school, one middle school, and two high schools). If you are raising a family yourself, or are thinking about starting a family, Sisters is a very kid-friendly city.
Sisters is not only nestled in the middle of nature – it serves as the headquarters of the Sisters District of the Deschutes National Forest – but it also offers dozens of amazing outdoor recreation activities such as horseback riding, hiking, camping, and more. There's also winter snow skiing opportunities nearby.
Sisters also hosts a number of fun events that you and your family can look forward to, including the Sisters Rodeo, the Sisters Outdoor Quilt Show, and the Sisters Folk Festival.
What You'll Love About Your New Hayden Homes in Sisters
There's a lot to love about Sisters, which offers up everything you could ask for in a small town. But you won't just fall in love with the city itself; you're also sure to fall in love with your brand new home. Whether you're buying your first home or upgrading from your current home to your dream home, there's nothing like brand new. Our homes offer the peace of mind of a defect warranty, plus new and custom features, big kitchens and closets, spacious layouts, all the latest tech and more. Our homebuilders use the highest quality materials and techniques when constructing your new home.
Come See Our Homes Today
This could be your year to move into a brand new home. If you have been looking for a community that offers a small town, neighborly feel that's only a 30 minute drive from Bend, look no further than Sisters. Hayden Homes is building new homes, at our Village at Cold Springs community, that really wow.
Are you looking to buy a new home somewhere else? Our homes aren't just in Sisters – you can find our new homes throughout the northwest, including Washington, Oregon, and Idaho. For example, if you're interested new homes for sale in Pullman, WA or in Star, ID, we can help. Contact us today for more information about homes for sale near you.