Back to Blog
August 16, 2022
How to Furnish Your Dining Room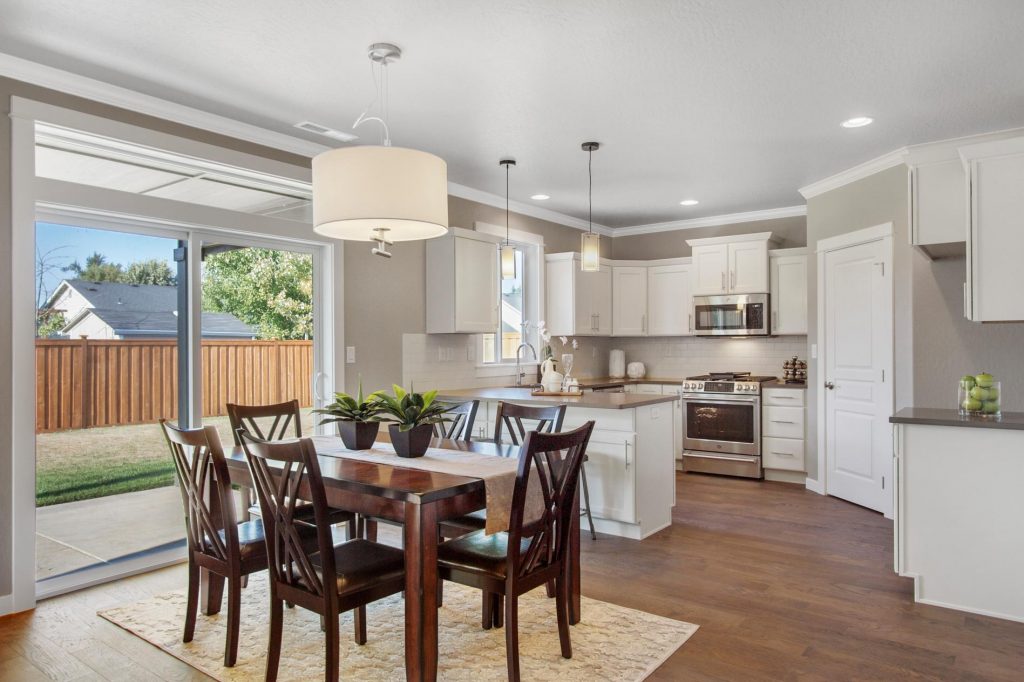 The dining room is arguably one of the easiest rooms in a home to furnish. All you really need is a table, chairs, and a light fixture. Everything else is just extra. Regardless, you may still want to create a comfortable and stylish area to reconnect with family and friends over a meal. Here are our top tips for creating a welcoming gathering spot for your family and friends.
Consider your space
Before buying any furniture, there are several considerations to make like the type and size of your space, and how you plan to use it. Do you have a dining room that's set aside or is it more of a dining area in an open-concept floorplan? While you'll have a bit more creative freedom with a traditional dining room, you'll want to choose pieces and decorations that complement the design in the surrounding spaces so everything visually flows together.
Next, determine how much space you have to work with. A small dining room will look more cramped with a large table and chairs. If you have enough space, you may want to consider adding more pieces like a sideboard, hutch, or china cabinet. Measure your dining area so you can choose the right furniture for your space.
Finally, settle on the purpose of the dining room. Will it be used daily for eating or occasionally for entertaining? Do you need it to be multi-functional? Will small children be using it? Do you even need a dining room?
If used daily and with children, opt for sturdy and easy-to-clean surfaces. If used only occasionally, you can get away with high-maintenance finishes and fabrics.
If you want to use it for other purposes like working or reading, opt for comfortable chairs with supportive backs that allow for long periods of sitting.
Don't use the dining room much? There's no rule saying a dining room must be a dining room. Feel free to transform it into a space that works with your family's lifestyle and habits.
Start with the table
After determining the role your dining room will serve, it's time to start shopping for furniture. First up: the dining room table. Choose an appropriately sized dining table for your space. You want one that is large enough to seat your family but not so large that it makes the room feel cramped. There should be enough space to move chairs and comfortably walk around the table, ideally at least 2 feet between the chairs and the walls of your dining room.
Round and oval tables are great for smaller spaces since they allow you to fit a large number of people without taking up too much space. If your dining room is larger, a long, rectangular table to fill the space works best.
Mix it up
Dining sets will always be in style but if a perfectly matched set isn't your thing, consider mixing and matching furniture. An easy way to do this is to choose chairs separately from the table. Some popular combinations are statement head chairs from the other chairs, a banquet bench on one side, or even picking individual chairs that work together. This mix and match can extend to other furniture pieces like sideboards or buffet tables if you have room for one.
Light it up
The right light can make or break a room. The type of lighting you choose will depend on how you use the space: abundant lighting is great if the dining room doubles as a workspace while soft lighting will create an intimate atmosphere. Use a mix of lighting like chandeliers, floor lamps, wall fixtures, and windows to create the right ambiance. You should also match your light fixture to your table; if you have a round or oval table, choose a rounded light fixture. Conversely, a linear fixture works great with rectangular tables.
Again, the size of your dining room will affect the type of light fixture you choose. Go for a big and bold chandelier in a large room. Alternatively, if you have a smaller space, pendant-style fixtures can make a big statement without taking up a lot of space.
Finishing touches
Accessories like wall art, rugs, and other decorative objects can add a finishing touch to your dining room. Focus on a few accessories that work well in your space and style. Your accessories provide an opportunity to inject your personality through color, texture, and additional visual interest.
Furnishing your living room in your new Hayden home is an exciting project. These tips will help you create a beautiful and inviting dining space. If you're still on the hunt for your dream home, we have homes for sale in Washington, Oregon, Montana, and Idaho. We are ready to help you, whether you're buying your first home or purchasing your second or third. Contact us today to learn more!