Back to Blog
June 3, 2019
How to Choose the Right Floor Plan for Your Home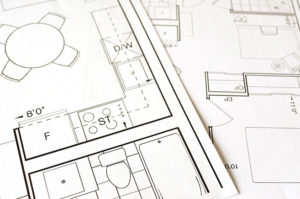 There are a lot of decisions to make when it comes to finding a new home. You've probably already decided which neighborhood you want to live in, the type and style of home you prefer, and even the features and amenities you want. Now it's time to find the right floor plan for your home and your family.
Selecting the right floor plan is important. You can repaint and update the kitchen in the future, but it's difficult to change the layout. Before committing to a home, ask yourself these questions to make sure you're choosing the right floor plan for your family's new home.
What's your family's current lifestyle?
Your lifestyle dictates the type of home you'll gravitate towards. If you have young children, you may prefer to have the bedrooms on the same level. Conversely, if you're looking for a home you can eventually age in place, you may prefer a single-story home instead of a two-story home. You may want an open-floor plan if you love to entertain. Work from home? Look for a home that offers a flexible space for a home office or other specialty room.
Does the home feel 'livable?'
While the size of your new home is important, don't hold fast to a particular measurement. Square footage is just a number; a smartly-designed floor plan can feel much larger than the square footage. Instead of staying committed to a particular size, set a general size range you'd like and focus on finding a home that has the right number and type of rooms for your family. When touring homes, check that the flow makes sense and imagine your daily routine and how your family will move around in the space.
What features do you need that your current home doesn't have?
How does this home improve on what you have in your current home? Does it have more storage? Larger bedrooms? A dedicated laundry room? Consider what features and amenities your current home lacks and make sure the new home fits those needs.
Does the home fit within your budget?
Buying a home is one of the largest financial purchases you will make in a lifetime. And let's face it, there is a part of us that may want to have a larger, fancier home than we may need or can afford. So before you get your heart completely set on a floor plan, be sure to talk with your builder about what your costs will be and make sure it aligns within your budget. If you need help on determining what that is, check out our blog on how to budget for a new home.
Will this home fit your family now? In 5 or 10 years?
Each family has its own life-cycle. Consider the current state of your family and think about how your family's needs may change in the future. Do you anticipate growing your family? Or perhaps having a family member move in? Will your kids be moving out soon? The right home will allow you to comfortably fit your family for several years.
Finding the right home for your family can be difficult but isn't impossible! By asking yourself these questions, you'll be able to find your perfect home.
Explore Hayden Homes Floor Plans
Hayden Homes offers gorgeous homes that are perfect for every stage in life. With over 30 home plans, you're bound to find the right home for your family. Take a few minutes to review our gallery of floor plans HERE, view a virtual tour and even play with the design features of your new home. Then, when you're ready to buy a new home in Oregon, Washington, or Idaho, contact us directly. We're excited to help you find your new dream home.