Back to Blog
June 21, 2022
How to Camp in Your Backyard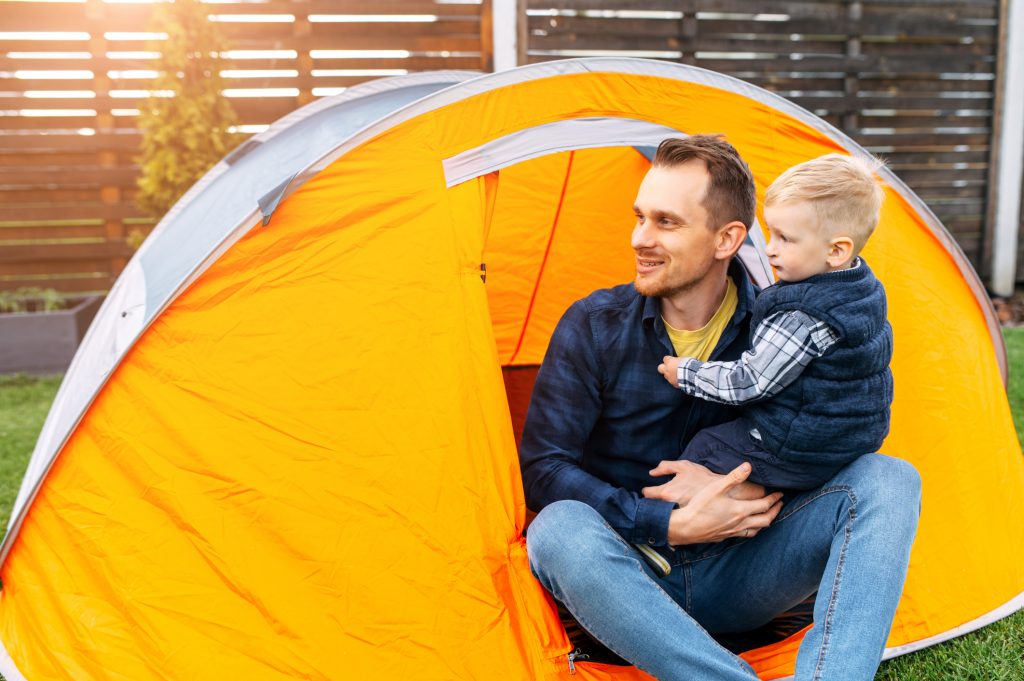 Camping with the family is a lot of fun but if your schedule doesn't have room for a weekend away or you want to practice camping out with small kids, camping out in the backyard is a fun alternative. Here are our top tips for having the best backyard camping trip.
Create ground rules
Before embarking to the backyard, set some ground rules that need to be followed by every camper. This will make your backyard campsite feel like the real thing. Some simple ideas include:
Limited the access to the house: Treat the backyard as a true campsite and act as if the house is the public restroom. Likewise, if you forgot to grab something, do without it for the night.
No electronics: Part of the reason we go camping is to 'get away from it all' so agree to leave the electronics inside the home. You may want to have a phone nearby for emergencies but keep it out of sight while you're camping.
Set up your campsite
Have the entire family pitch in to set up your campsite. Find a relatively flat area of your yard to set up your tent. Your tent can be your go-to camping tent, a tent you've purchased just for this adventure, or a covered shelter you build with a tarp or other covering. Figure out your sleeping arrangements and set out the sleeping bags so everything's ready when it's time to turn in for the night.
Crank up the grill
Camp food is half of the experience. Plan the menu together with some classic camp dishes like foil pack meals, hot dogs or burgers, or steaks or pizza if you're fancy. Don't forget to plan something for dessert, like s'mores, ice cream, or banana boats. You should also plan something easy for breakfast like eggs and pancakes, granola, or breakfast sandwiches. And don't forget the snacks and drinks!
Enjoy fun camping activities
Plan some fun camping activities to pass the time to make your kids forget about their electronics. You can have a neighborhood hike, make friendship bracelets, cool off with water activities, watch an outdoor movie, play games, and more. As the night goes on, break out the glow sticks for some additional fun. If you have space, build a fire in a fire pit to roast marshmallows, tell scary stories, or just catch up with each other.
Let nature be your entertainment
Nature can be quite entertaining if you know where to look. Walk around the neighborhood and look for the wonders of nature like flowers, insects, birds, and other animals common in your area. Learn more about the constellations and lay out some blankets and look for them in the sky.
Be flexible
Sometimes plans need to change on the fly. If you find you need to head inside for the night, whether it's because of weather, an emergency, or the kids change their minds about sleeping outside, go ahead and head inside and finish your campout out in the living room. The beauty of backyard camping is the flexibility to adjust as the situation calls for.
A backyard campout allows you to enjoy the fun of camping without completely leaving the comforts of home. When you're ready for your next adventure, give the backyard a try!
If you're looking for a home that offers your family more space to enjoy summertime activities, Hayden Homes is here to help when you're ready to buy a new home. We build new single-family homes in Idaho, Oregon, Montana, and Washington for every stage of life. We're looking forward to welcoming you into your new home.