Back to Blog
February 6, 2018
Hayden Homes Dream Backyard Giveaway: From Concept to Creation!
Follow the Limbeck's Backyard Transformation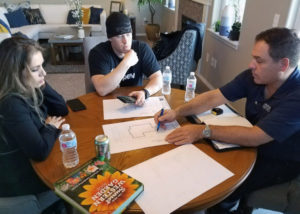 The 2017 dream backyard planning has officially begun! On Monday, Feb. 5, Hayden Homes CEO Dennis Murphy visited our Obsidian Trails community in Redmond, Oregon, to sit down with Brett and Bibiana Limbeck, the lucky winners, and sketch out some initial ideas.
Since the Limbecks' have yet to move into their new home and were planning to install landscape on their own, the backyard is an empty space just waiting for some love. On their backyard wish list are a stand-alone hot tub, fire pit (or fireplace), low-maintenance plants and an outdoor kitchen for entertaining friends and family during the spring and summer evenings.
Dennis listened to the Limbecks' wants and sketched out their ideas on a blank landscape plan, as well as adding some helpful suggestions, including landscape lighting and planter locations, to create the perfect vision for the Limbecks' soon-to-be dream backyard. Now, as they finalize their ideas and approve the final plan, it's only a matter of time before we can start construction this spring!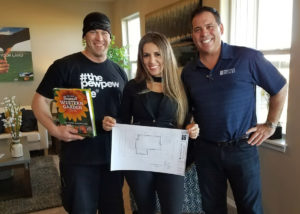 In the meantime, Dennis left Brett and Bibiana with a favorite landscaping book on Pacific Northwest gardens to help the lucky winners choose some beautiful, low-maintenance shrubs that will compliment their lifestyle and help their back yard come alive.
Stay tuned this spring, when we anxiously watch as the Limbecks' backyard transforms from concept to creation!
We will be sharing images throughout the makeover and even the Limbecks' first party in their new backyard.
Follow us as this yard becomes a dream come true!
If you are interested in learning more about Hayden Homes, please call 1-800-923-6607.