Back to Blog
March 28, 2022
Green Moving: 6 Tips for an Eco-Friendly Move into Your New Home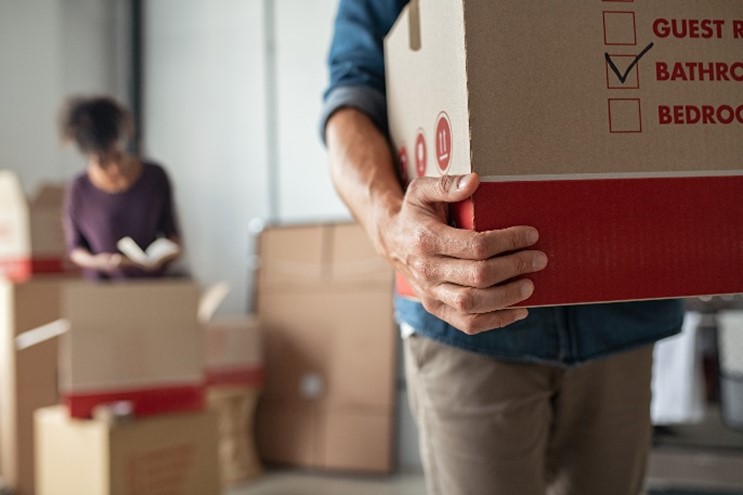 Moving hasn't traditionally been known to be environmentally-friendly. Even the most minimalist of families can be surprised how much trash, boxes, and plastic can accumulate at the end of a move. Thankfully there are some simple ways you can make your next move more environmentally-friendly. Here are some tips so your next move can be more eco-friendly.
1. Declutter Your Home First
Moving is the perfect excuse to declutter your home and finally get rid of things you no longer use or need. It's a great way to reduce your overall moving costs – because more stuff means more packing supplies, longer move, and larger truck). But did you know it's also the first step to an eco-friendlier move?
By decluttering your home, you ensure you're only taking what you need and will use in your new home. It also means you will need less space on a moving van and complete your move in less trips, which means less carbon emissions and fuel use.
The next step after decluttering your home is to donate, gift, or sell usable items to keep them out of your local landfill.
2. Pack in Containers You Already Own
Even though you may need some boxes, you can reduce the number of boxes you use by packing in containers you already own. Some items that work well include plastic storage bins, suitcases, dresser drawers, gym or duffel bags, and reusable grocery totes.
3. Use Reusable or Used Cardboard Boxes
If you need additional boxes, call up family and friends to ask for spare boxes. Grocery and retail stores, online listing services like Craigslist, and even your social media network can be good sources for moving boxes. If you shop online, consider saving those shipping boxes for your move.
Another great option is renting reusable moving boxes. These are typically heavy-duty plastic storage containers that come in different sizes. The best thing about these boxes is you won't need packing tape and can return the boxes after your move, leaving you with less trash to clean up. U-Haul and Frogbox offers reusable moving boxes and you can find additional service providers online.
4. Use Eco-friendly Supplies
Moving requires a lot of additional supplies. Thankfully there are plenty of eco-friendly alternatives. Along with reusing cardboard boxes or plastic storage bins, you can use eco-friendly packing supplies like green bubble wrap, biodegradable packing peanuts, recycled packing paper, or moving blankets.
You can also use materials you already own like blankets, towels and bed sheets, socks, newspapers, suitcases, and even trash bags.
If you do decide to buy new moving boxes, make sure they're made from recycled cardboard. See if your moving company accepts used boxes for other customers to use.
5. Make Fewer Trips
Keep your carbon emissions and fuel use low by making fewer trips between your old and new homes. Focus on moving as much of your belongings as possible on moving day to reduce the number of trips you need to take. If you hire a moving company, they'll make sure to bring the correct size truck to fit your belongings. If you plan on moving yourself, rent the right-size truck so you can keep the number of trips between homes low.
6. Hire a Green Moving Company
If you need (or want) to hire a moving company, opt for an eco-conscious company. These companies prioritize sustainable practices like using biodiesel fuel over conventional gasoline, offering paperless quotes and receipts, offering boxes and supplies made from post-consumer recycled materials, reusable storage totes, and more.
Even small changes can have a big impact. These tips will help you make your next move sustainable and eco-friendly. Ready to make a move of your own? Hayden Homes is here to help. We build beautiful new homes in communities throughout Idaho, Oregon, and Washington. We're sure you'll find the right home for your family.