Back to Blog
April 2, 2021
Why is Home Insurance Important?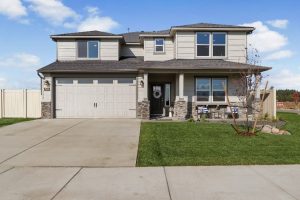 Your home is more than just a roof over your head. It's filled with your belongings, memories, and comforts. So, it makes sense to do everything you can to protect this invaluable possession. That's what makes home insurance a smart investment; it provides a sense of security of knowing your home and belongings are protected.
Here's why it's important to have home insurance.
It may be required for your mortgage
You aren't legally required to have home insurance but your lender may require it as a condition for securing a mortgage. Why is this? Even though you paid a down payment, your lender is on the hook for the majority of the purchase until you pay off the mortgage. Since they're responsible for so much, having you get home insurance gives them the security in knowing their asset in protected. Think of it this way: if your home is damaged or lost in a fire or natural disaster, both you and your lender will lose out if you don't have home insurance!
Your lender will determine the minimum amount of coverage you need.
It protects your most valuable asset
For most people, their home is their most valuable asset. Home insurance protects that investment by making it possible to pay for needed repairs or replacement caused by damage or loss due to a covered event. Your home insurance policy covers damage to your home and attached structures, like a deck, garage, or porch in addition to any standalone structures on your property, like a fence or shed.
Replaces your belongings
In addition to providing protection to your home, your belongings, like furniture, clothes, jewelry, electronics, etc., are covered as well if they're stolen or damaged. This includes the belongings that are lost in another location!
Provides liability coverage
Another benefit of home insurance is the liability coverage it provides. Sometimes accidents happen and your policy may step in to cover costs if you, or a family member (including pets) damage another person's property or injuring someone or if someone is injured on your property. This may include covering costs for repairs, legal fees, or medical bills.
Covers living expenses
If you've experienced damage to your home and need to stay somewhere else while it's being repaired, your insurance policy may cover a portion of your living expenses.
Have questions? Talk to an insurance professional
Insurance is not a one-size-fits-all solution. Your coverage needs may vary so work with a trusted insurance broker to discuss your unique situation. They will be able to customize a policy that works best to protect your investment. They will also be able to explain what's covered, policy limits, how to file a claim and more.
When it comes to protecting your home, insurance is one of the best things to buy that you hope you never have to use.
If you're thinking about buying a home in the Northwest, we have beautiful new homes for sale in Washington, Oregon, and Idaho you'll be sure to love.  Reach out to us today!