Back to Blog
August 15, 2018
What Are HOAs and Why Do Communities Have Them?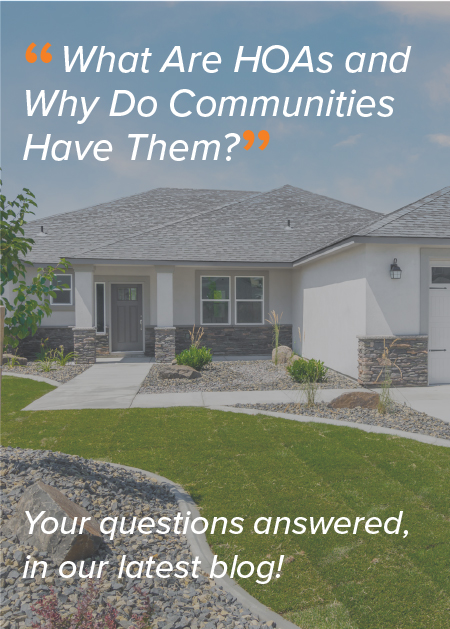 A large percentage of planned unit developments and newer suburban communities have HOAs, or Homeowners' Associations. If you're planning on buying a new home in the Northwest, either from Hayden Homes or another homebuilder, your new community may have an HOA. Here's a look into what an HOA does, why communities have them, how HOA dues are determined, and what they typically pay for.
What Does an HOA Do?
Typically, an HOA is essentially responsible for setting community rules and monitoring community behavior. These rules vary based on the HOA, the type of property involved in the HOA (i.e. residential homes vs. condos), and the wishes of the HOA board and residents. Some examples of rules might include:
Construction and building requirements, such as homeowners not being allowed to construct fences over a certain height;
Behavioral and lifestyle requirements, such as not keeping more than two pets or maintaining shades of a certain exterior home color; and
Basic common responsibilities, such as picking up after one's dog, paying HOA dues, not littering, maintaining lawn, etc.
Why Do Communities Have HOAs?
HOAs do more than just make rules. If they didn't, homeowners probably wouldn't want to keep them around. In addition to setting down some regulations that are intended to maintain the quality of the community for everyone, HOAs often maintain and repair public areas, including a community park, roads and entrances, or building defects. By doing so, the HOA helps to protect property values and provide services to residents.
How Are HOA Dues Determined and How Much Are They?
It should be noted that the amount that homeowners are asked to pay in HOA dues can vary dramatically depending on the community; sometimes, dues may be as little as $100 a year, other times, they could be several thousand dollars! The more upscale the property and the more amenities offered, the greater HOA dues will likely be. In the Northwest, HOAs are typically in the $250-500/yr range. It is important that you find out what HOA dues are and factor this into your monthly payment before you buy a property that is part of a homeowners' association. Keep in mind that if you move into a property that is part of an HOA, you have no option but to pay these fees. If you do not pay your fees, a lien could be placed against your property.
Talk to Hayden Homes About Buying a New Home with or without HOA Fees
Buying a home that is part of an HOA can be a very positive thing, leading to a greater sense of community and reassurance that property value, comfort, and aesthetics will be maintained. Of course, because being part of an HOA means an added fee, so learning what the fee is and what is covered by the fee is critical.
At Hayden Homes, we are building brand new homes in great communities in Idaho, Washington, and Oregon. If you have questions about a community that you're interested in – if it has an HOA and what the dues will be, we are here to help! Get in touch with us today. We can serve you whether you're buying your first home, upgrading to a bigger home, or looking for something a little smaller. Reach us today to learn more!