Back to Blog
October 24, 2018
Trick-or-Treat Fun in Your New Home
Are you looking for a fun way to make Halloween more eventful this year? If so, one idea is to host a pre-trick-or-treating game night for your young trick-or-treaters. Here are some tips on how you can make the most of your new home on Halloween night.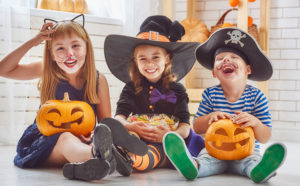 Start with a Plan (and Stick to the Schedule)
Having a plan, and sticking to it, is always one of the best ways to ensure that things run as smoothly as possible. As you're planning your event and creating invitations, things to consider include:
Are you inviting kids and their parents?
What time do you want the party to start?
What time do you want to the party to end and transition into trick-or-treating?
Do you need any chaperones? How about for the trick-or-treating portion of the evening?
Answer these questions now, and include any details on your invitations.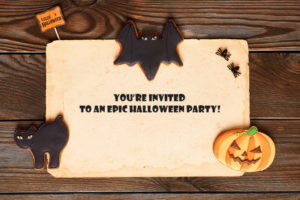 Make Cute and Clever Halloween-Themed Invites
Part of the fun of throwing a party is making cute party invitations. An appealing Halloween-themed invitation can make the difference between a rockin' party and a ghost town. We recommend sending out invitations that are crafty and clever. You can find some great invitation ideas on by doing a Google search or by looking on Pinterest. Plenty of inspiration out there!
Decorate your Home for Halloween!
In addition to the invitations, creating awesome party decorations is a must when planning a party in your new home. Buy decorations if you're in a rush, or set aside a day with the kids to create different decorations by a hand. This is a great way to spend time together as a family and provide your kids with a creative outlet during a day of inclement weather.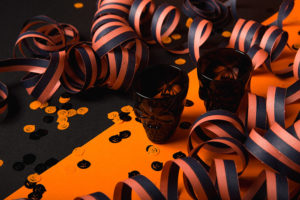 Offer Food and Drink (for Adults, too!)
No party is complete without yummy food and drinks. During Halloween, there are a lot of fun and spooky serving options. Some top food choices that kids and adults will like include deviled eggs with spiders (using olives to create the spiders), carrot "fingers," and Frankenstein sushi (see this great post from
Genius Kitchen
for more recipe ideas, including the ones listed). Remember that the kids are about to go trick-or-treating where they'll be walking a lot and – let's not forget – loading up on candy, so this is a great way to get their bellies filled with something  nutritious before they go out.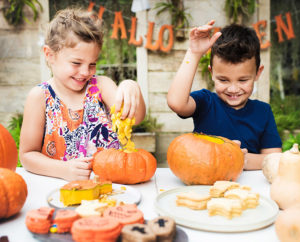 Keep Games Spooky and Fun 
Finally, plan some games that are spooky, fun, and age appropriate! Some games might include Pin the Tail on the Cat, a pumpkin toss, Ghost in the Graveyard, a Halloween-creature pinata, and a Guess-How-Many game using candy corn or other Halloween treat. A simple game of hide-and-seek or duck-duck-goose can also be a great option.
Have a Great Halloween in Your New Home
This Halloween, put your new home to work by hosting a pre-trick-or-treating Halloween party for your kids. Remember to invite other parents and summon their help in keeping little ones supervised, and perhaps showing off that brand new kitchen or open layout of yours!
Still not in the home of your dreams? If you're a potential home buyer, we have countless homes for sale throughout
Washington
,
Oregon
, and
Idaho
. Reach out to us at Hayden Homes today to learn more.