Back to Blog
March 5, 2019
Tips for Moving into Your New Home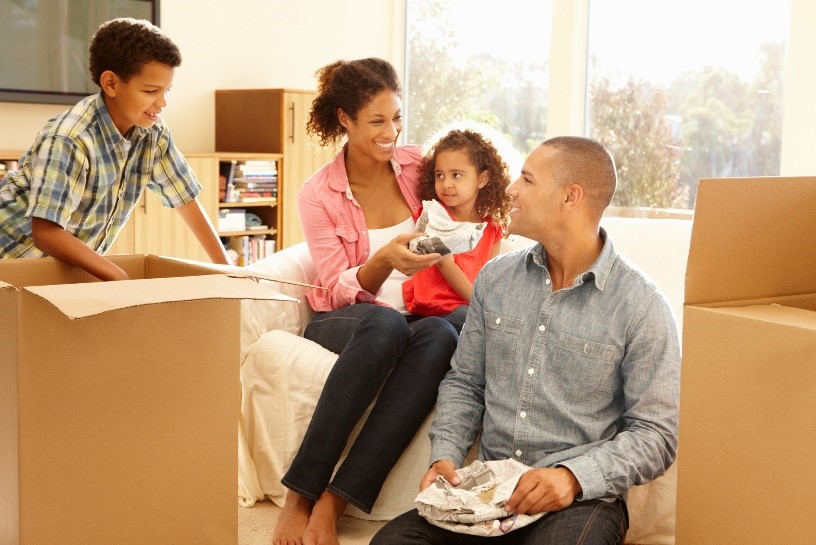 You've purchased and close on your new home and now it's time to move! As your moving date creeps closer, you may start feeling overwhelmed by the thought of packing up your home and moving into a new one. Moving doesn't have to be stressful, and with a bit of planning, you can have a less stressful moving experience, whether you're a repeat mover or its your first time.
If you need help planning, organizing and executing your move, read on for some helpful tips and hacks to get you ready for moving day.
Prepare Before the Move
Getting prepared and organized for your move long before the moving van shows up will help get you started on the right foot. Here are some things:
Contact utility companies and begin transferring services. Once you have a firm moving date, begin contacting your utilities to transfer service to your new home. You'll also want to submit a change of address form with the post office too.
Arrange donation pick-ups. If you're donating larger items like furniture, schedule a pick up before your moving day so you can make sure they're able to get them.
Plan your packing supplies. Figure out how many moving boxes you'll need, packing tape (especially if you're using colored tape to organize your move), and other packing supplies you'll need. Begin looking for free moving boxes or check Google to see if there's a local place where you can rent moving bins.
Empty your pantry. Avoid bringing food to your new home (raise your hand if you've ever packed expired canned food) by stopping grocery shopping a few days before your move and trying to eat as much food as possible. Donate any unopened/unexpired food to a local food bank and toss the rest. You'll want to start fresh in your new home anyway.
Packing Tips
Color code your boxes. Use map out your new home and assign different colors of duct tape for each room (red tape for the living room, yellow tape for the kitchen, etc.). On moving day, place the coordinating tape on the room doors in your new home so people can quickly and easily identify which box goes to which room.
Leave your dresser and closet intact. Instead of emptying your dressers and closets, pack them all together. Take the dresser drawers out and wrap them in plastic to keep everything in place. Likewise, slide trash bags over your hanging clothes so you can quickly rehang them in your new closet. No need to pack and unpack!
Skip the bubble wrap. Instead of shelling out for bubble wrap or packing peanuts, use your towels, linens, and other soft items to pad your breakable items like glasses, lamps, and vases.
Use suitcases. Suitcases can be used to pack heavier items like books. The handles and wheels will make it easier to transport them and will mean you'll need less boxes.
Create a 'Moving Day Essentials Kit.' Put together a box or small bag of your essentials you'll need for your first night in your home. Your moving day kit can include important documents, medications, basic toiletries, chargers, and a couple changes of clothes to start. That'll save you from having to hunt through boxes to find what you need.
Cleaning Tips
Start cleaning before moving day. Moving day is a long and hectic day. The last thing you'll want to do is spend that day also trying to deep clean your home while directing movers. Instead, clean and scrub your home in advance of the move so all you'll need to do is simple spot cleaning the day of.
Moving Day Tips
Find a sitter for small kids and pets. Give yourself one less thing to worry about by having a trusted family member or friend take care of your pets and small children the day of the move. With so many things happening, you'll appreciate not having to worry about them underfoot of the movers.
Be packed BEFORE moving day. Shorten your moving day by having your home all packed the day before the moving truck arrives. You'll want your full focus on coordinating your move instead of trying to pack last minute.
Keep it fun. Fun and moving sound like oxymorons but stay with us. Keep the energy up by playing music and taking short breaks for water and snacks throughout the day to keep your energy levels steady.
Settling into Your New Hayden home
Start with your bedrooms and bathrooms. You're not excepted to unpack your entire home the same day you move in. Instead, prioritize which rooms are most important and start there. If you can only unpack one room, start with the bedrooms because you'll feel much better sleeping in a properly made bed then anything else. This is especially helpful for smaller children to help them with the transition into a new home. Since bathrooms are smaller, they're easy to set up as well.
Toss boxes as you empty them. Don't hang onto your boxes. Begin breaking them down and recycling or tossing them as you empty them. Doing so will clear up much needed space in your home and give you a clear progress marker.
Do a little at a time. Don't stress yourself trying to completely unpack and set up your home within the day. Give yourself permission to take your time. Focus on getting your priority rooms done and then knock out the rest as you have time. Even if it's just ten or fifteen minutes of unpacking a day, you'll feel much better over the long run.
Treat yourself. After a long day of moving, treat yourself (and any helpers) out to dinner, whether it's a dinner in a restaurant or take out at home. You've worked hard today so let someone else take care of you for a bit.
These amazing moving tips will make relocating into your new Hayden home easier than you imagined possible.