Back to Blog
April 1, 2019
Tips for Designing a Hip and Creative Kid's Room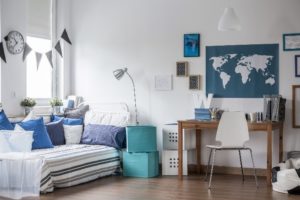 Decorating your child's bedroom poses an interesting challenge: not only do you want to create a space that reflects your kid's personality, you also don't want to redecorate every few years whenever their interests (inevitably) change.
The trick to designing a hip and creative kid's room is balancing the functional aspects with the design motifs that make a room feel fresh. Since your child's bedroom serves multiple purposes; not only is it where they sleep or relax, it's also where they can play, study, or just hang out, you'll need to keep all that in mind when decorating.
Use these tips to create a bedroom your kid is sure to love and will happily grow with them.
Plan the space
Before you begin, talk with your kids about how they use their rooms. Remember, their bedrooms are more than just places to sleep: it's also where they hang out with friends, relax on their own, play or study. You'll want to create zones in the room to accommodate each way they use their rooms. Toddlers and younger kids will need lots of floor space to play while teens will need space to hang out with their friends.
Keep the overall design simple
It's easy to get excited about creating a room that perfectly encapsulate your child's interests but kids are also notoriously fickle, trading interests as quickly as they outgrow their clothes. Instead of creating an overly themed room complete with kid-sized furniture, keep the design simple by using accessories to tie in your kids' interests and purchasing furniture and accent pieces that can be used by someone of any age. This will save you from having to purchase new furniture as your kid grows.
Use versatile pieces
When designing a nursery, instead of purchasing single-purpose furniture like a changing table, opt for a dresser or chest of drawers that can double as a changing table and then reverted to its original purpose once the diaper stage is behind you. Likewise, opt for cribs that convert to different bed types or select a bed with built-in storage space for additional storage options.
Define each space
Now that you know how your kid will use their rooms, define each zone with appropriate furniture or accessories. Encourage studying or creative play with a desk or table and chairs; set up a reading space with bean bags, a hanging chair, or papasan chair; or create a bright area with your child's toys for playtime.
Get funky with accessories
As mentioned before, having fun with accessories is the best way to introduce a trend or express your child's interests since they're relatively easy to replace since they're relatively inexpensive. Soft furnishings like rugs, curtains, and bedding are fantastic ways to introduce patterns, colors, and textures. Wall stickers are also a great way to add some fun to their room; bonus points: they're easily removed as their interests change!
Let your kids have a say
Don't forget to get input from your kid! This is their room and they should be allowed to choose some of the furniture, accessories, and colors. Be sure to explain that while you still hold parental veto rights (this will save you from having to paint the walls black), your child can select some items for their room.
One of the best things about owning your home is the freedom you have to decorate as you please. You can create the bedroom of your kid's dreams and help their transition into a new home. If you're ready to say hello to a new home in Washington, Idaho, Oregon, and all throughout the Northwest, contact us today to find the home that's right for you.