Back to Blog
May 2, 2018
Pacific Northwest Landscape Ideas, Low Maintenance and Budget-Friendly
If you own a brand new home in the Northwest, now's the time to start getting your new home's landscape in order. That means starting up your watering system, fertilizing and getting an early start on weed control. Thankfully, the weather is finally warm enough to enjoy being outside, and to not have to worry about winter frosts that may kill flowers and buds that are planted (knock on wood). That being said, here are a number of low maintenance, and budget-friendly landscape ideas that you can try this spring!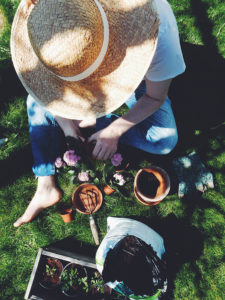 Budget-Friendly, Landscape Idea #1 – Plant Some Vegetables
Planting a vegetable garden is one of the best ways to make use of your yard, and can even end up saving you money (fewer trips to the supermarket). There are a lot of different stylistic options for planting a vegetable garden – square-foot gardening is often touted as one of the most effective ways of maximizing vegetable production and minimizing costs. In addition to being relatively inexpensive and providing your family with vegetables throughout the season, veggie gardens also look great! Want to try something smaller but equally as spectacular? Consider creating an outdoor herb or salsa garden.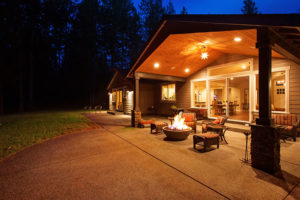 Low Maintenance, Landscape Idea #2 – Add Light and Warmth
Another landscape idea for your Northwest home, is that you can use to make your back or front yard look great is to add some lighting. From solar lamps to big bulbs, outdoor LED lighting is one of the easiest ways to add ambiance and warmth. You can even consider adding an outdoor fireplace, many of which can be purchased for under $200.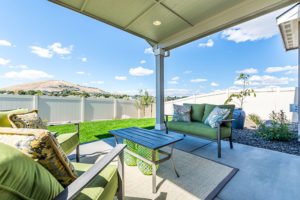 Low Maintenance, Landscape Idea #3 – Create an Outdoor Living Space
When the weather is nice, there is nothing more pleasant than spending a few hours outdoors with family or friends, perhaps for a game of Scrabble, a barbeque, or just to have a nice conversation or read a book. Which means that you need to create a great outdoor living space, which will not only contribute to your comfort, but also add to the overall look and feel of your yard. Instead of spending hundreds of dollars on brand new patio furniture, consider repurposing older furniture with outdoor fabrics, this is not only a budget-friendly landscape idea, but can be a great conversation starter with friends and family.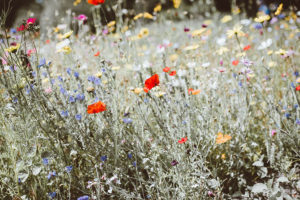 Budget-Friendly, Landscape Idea #4 – Go Wild
You can reinvent parts of your yard without spending hundreds of dollars or spending a lot of time. Just let things go wild! We're not talking about letting your landscape become overgrown and out of control, but rather throwing wildflower seeds in un-planted garden beds, a ditch, or other areas of your yard that could use some color. Wildflowers are easy to grow and require little maintenance, which is perfect for those with busy lives that are looking for an easier, more low maintenance option for the landscaping in your new home.
Spring has Sprung. It's Time to Spruce Up the Landscaping in Your Yard
Are you living in a new home in Washington, Oregon, or Idaho that doesn't yet have a finished landscape? You can use the landscaping ideas above to inexpensively transform your yard into a place that attracts positive attention and is a joy to spend time in. To learn more about our new homes for sale in the Northwest, reach out to us today!