Back to Blog
December 29, 2019
New Year's Resolutions for Your New Home – Tips to keep your home in good condition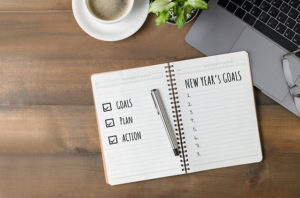 With the New Year just days away, we're all thinking about our New Year's resolutions. But what about New Year's resolutions for your new home? While most of our resolutions include conditioning for our bodies, in the spirit of new beginnings and positive changes, we've put together our list of the top 5 things that you can do this year to keep your new home in tip, top condition.
1. Declutter By Focusing On A Particular Problem
Decluttering your home and personal space is a common New Year's resolution. While the thought of tackling your entire house can seem daunting, don't let this resolution slip away. Think about streamlining this daunting task by narrowing this resolution down to a "particular problem" in your home whether it's your master closet, pantry, or garage. Create a better system in the space by organizing with bins or boxes and focus on the functionality of these storage containers rather than how they look. Establish a plan for what will stay and be sure to measure the storage options for the best system to ensure you keep organized.
2. Donate Unused Items
Once you have gone through and organized your home, you likely have a pile of things that you either forgot you even had or don't want anymore. One great way to feel good about this process is to donate these items. Locate your local Goodwill or other non-profit, in need of donations, and give them a way. (Don't forget to grab your donation receipt for your taxes this year!)
3. Tackle Small Projects
You may not have thought about adding home improvement projects to your New Year's resolution list, but with the right planning, you could get all those small projects, that keep piling up, crossed off your to-do list. Whether it's simple tasks like cleaning the gutters, caulking around your bathroom shower, or hanging family photos, as you prepare for the New Year, write down your entire list of house projects for the year so you have it ready when you take the time to complete the projects. You'll feel better once they're checked off.
4. Work Out a Regular System for Keeping Your House Clean
Coming home to a clean house is one of the best feelings. Come up with a system that works for your family. For example, make a list of the things that need to get done daily and weekly and assign them to a specific family member. Daily tasks such as dishes need to be done nightly, dirty clothes go in the hamper, and jackets/clean clothes are hung up or put away.  To ensure that your weekly tasks like vacuuming, mopping, or cleaning the bathroom are done as efficiently as possible, here are a few tips from Jeff Campbell, author of the book Speed Cleaning and owner of the Clean Team housekeeping service in San Francisco:
Keep all your cleaning supplies handy and organized in a portable container that moves with you from room to room.
Stash cleaning implements such as a toothbrush, scraper, sponge, a few cleaning cloths and plastic bags in a builder's apron that you wear when you clean. Hook your glass cleaner and all-purpose cleaning spray on the loops to keep your hands free as you work around the room clockwise, cleaning from high (cabinets) to low (floors.)
Focus on one type of cleaning at a time. It's faster, Campbell says. Wipe down fingerprints on all the cabinets, for instance, before moving on to spraying and wiping counters. Then move on to windows and mirrors and appliances. Once that's done move on to sweeping and then mopping floors.
For optimum efficiency, enlist the help of your family. If you can, divide the jobs among at least three parties: one of you can do the dusting/vacuuming and changing beds, the other can do the bathroom cleanup, leaving only the kitchen and trash emptying for you to handle. The upside? You can get the whole house done in 45 minutes, Campbell says, leaving more time on the weekends for fun activities.
5. Bring Home Fresh Flowers
It may seem like a small thing, but the smell of fresh flowers and their bright cheerful colors can improve the ambiance of any room. Finding the right colors, heights and arrangements can really complement the existing decor in your rooms. And the right house plants can not only improve air quality but may provide some at-home aromatherapy to help you relax.
One of the best ways to make sure that you'll come back to your New Year's resolutions for your new home is to plan them out in advance. Decide the order in which you'll clean your rooms and spread your decluttering projects over a couple of months. Then write down all your small projects for the year so when the time comes, you're ready to tackle each one head on. When you're ready, sit down and make your plan for keeping your house clean and divide out the chores between each family member. Finally, the next time you're at the store, pick up some fresh flowers, we promise they will bring a smile to your face after a long day at work.
We wish you well in the New Year and hope that these 5 tips will help keep you on track for keeping your new home in the best condition possible.
If a new home is on your wishlist this year, Hayden Homes can help! We have new homes for sale throughout Washington, Idaho, Oregon. Contact us today, we look forward to helping you find your dream home!