Back to Blog
March 8, 2020
New Homes for Sale in Kennewick
Hayden Homes is pleased to announce brand new homes in the
Kennewick and Tri-Cities areas
. These homes are affordable, beautiful, and brand new. If you live in Tri-Cities or are thinking about moving to Kennewick, here's a look at why our new homes are the right choice for you and your family.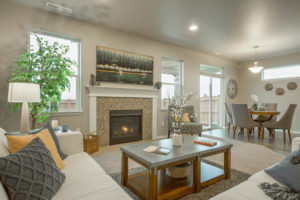 Why Buy a New Home?
There are dozens of reasons to become a homebuyer, starting with the fact that when you choose to buy instead of rent, you will be paying into your equity every month, rather than giving your money away to a rental or property company. In terms of buying something brand new vs. buying an older home, consider that when you buy new you will usually benefit from a new home warranty, you may be eligible for financing options through the new home builder, and you shouldn't have to worry about costs of repairs and upgrades for years to come.
Why Buy a New Home in Kennewick, Washington?
It's not just about buying a new home; location matters too. And when it comes to location, the Tri-Cities area is a fantastic place to invest in right now. In fact,
according to Zillow,
home prices in Kennewick are on the rise, with a 7.1 percent increase in median home value over the past year, and an additional 4.9 percent increase forecasted. Currently, the median home price is just under $250,000, which means that homes are still affordable for the time being. As the area grows and becomes more popular, prices will surely increase, making now the perfect time to invest.
Why Buy Your New Home with Hayden Homes
You now know the benefits of buying in the Tri-Cities/Kennewick area; the value of buying vs. renting; and the advantages of buying a brand new home; but do you know why you should buy your new home with Hayden Homes?
Hayden Homes is committed helping homebuyers like you get into their dream homes, whether you're buying your first home or moving from a current home to a new and improved version in a better location. More than just building homes, though, we are passionate about building communities. When you become a Hayden Homes homebuyer, you become part of a network of people throughout Washington, Oregon, and Idaho that make it possible for dollars to be reinvested year after year in communities throughout the Northwest.
Hayden Homes also has a wide selection of
homes for sale in Kennewick
and other up and coming areas of the Northwest, and offers a lot of benefits, like convenient financing options and new home warranties that provide peace of mind.
Find Your Future Home in Tri-Cities Today