Back to Blog
September 7, 2020
New Homes for Sale in Star, Idaho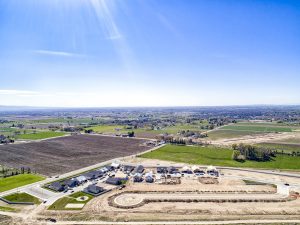 If you are looking for a new home in Idaho, Star may be the perfect place for you… While Star is a city with a population of fewer than 10,000, it is quickly growing. The area provides the perfect place for people who are looking for a quaint, small-town feel with access to the big city. Here's what you need to know about living in Star, Idaho:
New Homes Being Built
We here at Hayden Homes are happy to announce that we are currently building new homes in Star, Idaho. Homes can be found in the beautiful South Roselands neighborhood. The neighborhood is quiet, being filled with families (and is a great place for families who are looking to grow!), is safe, and is only a short drive's distance from schools and city living. South Roselands neighborhood also provides amazing access to the outdoors, with scenic mountains and sprawling fields serving as the backdrop to this gorgeous community. Have you been wanting to connect with nature more? Would you love to see your kids playing outside? Have you been dreaming of your own garden? You can have it all in Star!
Schools and City Close
For those who are worried about moving into a brand new home in a subdivision due to fears of feeling too far from the rest of civilization, rest assured – Star is close to everything. In fact, Star is less than a 30-minute drive to downtown Boise, making a trip to the city an easy getaway any time the mood strikes, or an easy commute for those who work in the city. For families with children, it's comforting to know that getting your kids to school won't be a problem; Stars schools are shared with Middletown School District and West Ada School District – which are among the best districts in the state.
Brand New Homes
Perhaps one of the biggest advantages to moving to Star right now is that you can find your dream home. Indeed, these never-before-lived-in-homes are brand new. Whether you're buying your first home or are a homebuyer for the second or third time, our homebuilders know exactly what you're looking for in terms of space, custom design, and unique features. These homes are spacious, offer plenty of yard space, and are priced affordably. If you've been looking for a quiet, beautiful place to call home, a Hayden Homes' home in Star, ID could be exactly what you've been waiting for!
Come See and Learn More About New Homes for Sale in Star, ID Today
Don't wait any longer to buy your dream home. With homes for sale in Star that are priced just right, these homes are sure to go fast! Take advantage of great interest rates and buy now!
And don't forget, we have new homes for sale all throughout the northwest, including Idaho, Oregon, and Washington. For questions about homes for sale in any one of these states, please contact us today! We look forward to serving you and helping you find the home of your dreams.