Back to Blog
July 25, 2018
New Homes for Sale in Walla Walla, WA
For those who are looking for the charm of a small town, Walla Walla is the place. Located approximately four hours (by car) from Portland and Seattle, Walla Walla offers natural beauty, a sense of community, and brand new homes for families ready to expand and grow.

Things to Do in Walla Walla
Walla Walla is arguably one of the most beautiful places to live in America. Flanked by mountainous hills, this uniquely vibrant town has been recognized for its famous main street, its friendliness, and some outstanding dining and wining options. With over 100 wineries in the valley producing world class wine, Walla Walla has a rich agricultural culture. There are also countless lakes, trails, and other outdoor opportunities to pursue.
If you have children or are planning to have children in the future, you can take comfort in the fact that Walla Walla is a very family-friendly city with a great school system. The economy is growing as more folks move into the area from California and other areas. There is also a university and a college within the city, too.

Buying a Home in Walla Walla
Living in Walla Walla can still be very affordable, despite the fact that the average home price in the city is rising. As reported by Zillow, home prices in Walla Walla have increased by 5. 8 percent over the last year and will likely rise an additional 1.6 percent in the coming year. Currently, the median home value is $226,600.  View our available homes in Walla Walla HERE.
If you're thinking about buying a home in Walla Walla, now may be the time. Currently, interest rates are reasonably low, and with interest rates and home prices expected to increase in the future, starting the home-buying process now is recommended.

Why Buy with Hayden Homes?
Right now, Hayden Homes is building communities in three states – Washington, Oregon, and Idaho – and in many cities including Walla Walla. Our Walla Walla homes are beautiful, incorporate state-of-the-art technology and features, and are for sale right now! These homes have everything you're looking for in terms of space and size, design and layout, and even come with our Hayden Homes' new home warranty!
Working with Hayden Homes is not only easy, but enjoyable. In addition to helping you to discover your dream home, our preferred lenders offer convenient financing solutions. We are available to answer any of your questions at every step of the way. Whether you're buying your first home or your second or third, the homebuilders at Hayden Homes are by your side.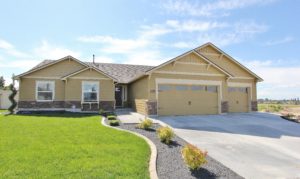 Come See Our Houses for Sale in Walla Walla Today
We are excited about our new homes in Walla Walla, and think you should be too! These homes have everything you could want and are located within one of the best communities in the Northwest. To learn more about our new homes for sale or to walk through a model home in Walla Walla, WA today, get in touch with us by phone or online at your convenience.