Back to Blog
February 14, 2020
New Homes for Sale in Eugene, Oregon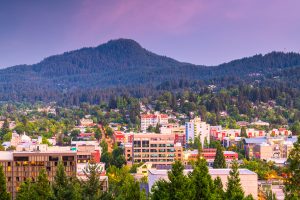 Those who live in Eugene know that it is a truly unique and special city in the United States. Which is why more people are thinking about moving to Eugene, including both those who already reside within Oregon, and those who are looking for a new state to call home. At Hayden Homes, we have beautiful, brand new homes for sale in Eugene, making it the perfect time to consider moving to this small city.
New Homes for Sale in Eugene – Why Now's a Good Time to Buy
When thinking about buying a new home, there are a number of things to consider. In addition to deciding where you want to live and what you're looking for in a home, potential buyers need to also consider the market: is now really a good time to buy?
Real estate trends in Eugene suggest that it is the perfect time to buy. According to Zillow, median home prices in Eugene have increased by over six percent since last year. What's more, home prices are predicted to rise another 3.9 percent within a year, which means that now may be the best time to purchase before prices increase again.
Eugene Is Quickly Growing and for Good Reason
The increase in the average home price in Eugene and the expected increase that's to come are based on the fact that Eugene has garnered national attention for its beauty and culture, and as such, is quickly growing. In fact, the current population is up 1.8 percent from 2015, the largest boost since before the Great Recession.
People are moving to Eugene for more than just culture and its natural beauty, too. Eugene has one of the strongest job markets in Oregon, and higher-wage job opportunities are attracting individuals and families alike. As more people move in, housing becomes more of a concern. Eugene's mayor, Lucy Vinis, says, "I think we are all very concerned about our housing shortage at all levels." If you're thinking about moving to Eugene and want to do so before housing prices increase dramatically and there are fewer homes available, make your move now!
Thinking of making the move to Eugene, Oregon? Here is a list of our top things to Do
Not only is Eugene a great place to live but there are ample activities that you will be able to enjoy. Here are a few of our favorites:
Enjoy a nice run on Pre's Trail along the Willamette River with beautiful views of Autzen Stadium.
Visit Oakway Center in the heart of Eugene to experience premier shopping, exquisite food and entertainment under canopies of heritage oak trees during the summer.
Explore the great outdoors and beauty Eugene has to offer with a wonderful hike at Spencer's Butter or Mt. Pisgah.
Attend the University of Oregon, one of Oregon's top-rated schools. This University is nestled in the lush Willamette Valley, with an easy drive to both the Pacific Ocean and the Cascade Mountains. It is well known for its research prowess and commitment to teaching. Visit the website here.
Catch one of 700 concerts, shows or performances that take place each year at the Hult Center for the Performing Arts in Eugene's vibrant downtown.
Take a trip with the kids to Eugene's Science Factory Children's Museum and Planetarium, a kid-focused science and technology center with rotating hands-on science exhibits, planetarium and more.
Or if you enjoy a weekend wine tasting excursion, Eugene is surrounded by several amazing wineries including King Estate, Sweet Cheeks, Sarver and Noble Estate.
You can see why Eugene is an amazing place to live an is growing in popularity.
Working with Hayden Homes to buy your new home
When you work with Hayden Homes to buy your new dream home in Eugene, you're working with a home builder with a reputation of excellence, and an organization that's focused on building communities that fuel growth. Our new homes for sale in Eugene are brand new, and have the space and features you're looking for whether you're buying your first home, or moving into a home that meets your family's needs.
Eugene is a hot place to be right now, and if you're thinking about making a move, you may want to do so before things get too competitive. If Eugene's not for you but you are looking for homes for sale, remember that we build homes throughout the northwest, including in Oregon, Washington, and Idaho.