Back to Blog
July 17, 2018
New Homes for Sale in Caldwell Idaho
Located in Canyon County, Caldwell is one of the best places to relocate to in Idaho right now. With a population of just around 50,000, this small town maintains a quaint charm, while also providing access to Boise. And best of all, Hayden Homes is building brand new homes in Caldwell that are ready to buy now! These new homes for sale have everything you're looking for in terms of space, custom features and great warranties.

What to Know About Real Estate in Caldwell, ID
It's the perfect time to buy, whether you're buying your first home or upgrading to your dream home. According to a Zillow report, the market temperature is "warm," meaning that it's both buyer and seller-friendly right now. The current median home value in Caldwell is $182,000, which is a 14.5 percent increase from last year. What's more, experts predict that prices will continue to rise in the coming year, which means that now's a great time to buy if you want to secure the lowest price possible. Why wait when the market is this good?


What's So Great About Caldwell, ID?
Caldwell, Idaho has everything you need for a comfortable life. Pros of living here include a mild climate, tons of great outdoor recreation along the Boise river, the foothills and the Owyhees, and living amongst a smaller, close-knit community is appealing to many. You'll also enjoy close access to the Boise-metro area for shopping, great dining options and local events (downtown Boise is only a 30-minute drive from Caldwell). Thanks to the slightly lower cost of real estate in Caldwell, the area has a lot of younger families, making it especially great for those who are looking for a place to settle down with kids.

Why Buy from Hayden Homes?
Everyone knows location is important, but so is your home. While you'll love living in Caldwell due to its proximity to Boise and limitless outdoor recreation opportunities, great schools, and kid-friendliness, you'll also love our beautiful new homes. Our homes bring:
The Hayden Homes commitment to quality;
Spacious living areas and open layouts;
Spacious lots;
High-end appliances;
Energy-efficient features;
Family-friendly living;
Convenient financing options; and
A new home warranty.
When you buy a new home from Hayden Homes, you're not just getting a new roof over your head, but peace of mind. We handle the details of building your new home to your standards so that you can focus on enjoying this exciting process from start to finish.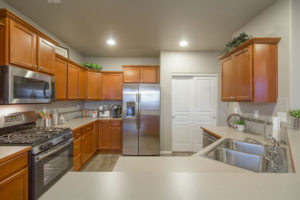 Come See Our New Homes for Sale in Caldwell, Idaho
There's nothing better than living in a great community surrounded by like-minded neighbors, especially when you're in the (brand new) home of your dreams. To learn more about our houses for sale in Caldwell, please call us today to find out more about our new homes. Interested in Hayden Homes, but not sure about Caldwell, ID? Not a problem. We have many new homes to choose from throughout the Northwest including Washington, Oregon, and Idaho. Meet with us today to get started on buying the home you've always wanted. We love helping homebuyers like you achieve their dreams!