Back to Blog
January 12, 2021
New Homes for Sale in Bend, OR
Buying a new home is a big decision. Not only do you want to make sure that you're buying a home that is comfortable and meets all of your expectations, but you also want to move to an area that you love. Bend, Oregon, may have everything that you're looking for in terms of your dream home in Oregon, as well as the ideal city to live.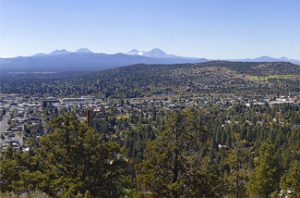 What's to Love About Bend?
The question shouldn't be, "What's to love about Bend?" but rather, "What's not to love about Bend?" With over 300 days of sunshine every year, Bend's weather alone makes it worth considering. But it's not just the weather in Bend that you'll fall in love with. Indeed, Money by TIME Magazine recently ranked Bend as one of the top 50 places in the country to live, citing the following reasons for its choice:
Mecca for outdoor enthusiasts. For those who love the outdoors, there's no place like Bend. Settled along the edge of the Cascade Range, those who love to spend time in nature will find activities like mountain biking, rafting, climbing, skiing, fishing, camping, and more not only accessible, but common.
Short commute times. Would you love to live in an area where your commute to work is short? In Bend, the average commute time is just 15 minutes, and a strong percentage of commuters rely on bike or foot to get to and from their place of work and recreation.
Relaxed, stress-free atmosphere. If you're looking for a small town-feel and the relaxation and laid-back lifestyle that comes with it, Bend is for you. With a lot of breweries and beer festivals, a culture that puts emphasis on good food and music, and a city that is as dog-friendly as they come, Bend is the place to be if you want to reduce your levels of stress.
Why You'll Love Your New Bend Home
At Hayden Homes, our home builders are committed to constructing new homes that impress in areas where people want to live, which is why we think that our homes will surely meet the criteria for your dream home. With great features packaged into brand new construction, several great locations throughout Bend that provide access to the best amenities and activities of central Oregon, and a new home warranty that provides you peace of mind, a new home by Hayden Homes is something you can feel great about. If you're buying your first home or upgrading from your current one, our team is here to help you find the new home of your dreams, answer any questions you have, and help you secure financing. We have some of the best new homes for sale Bend, Oregon has available!
Come See Our New Homes from Hayden Homes Today
We think you'll love Bend and our new homes at Arena Acres, located in the heart of Bend. If Bend's not for you, but Hayden Homes is, then we have homes for sale in other parts of the northwest, including throughout Oregon, Washington, and Idaho. Contact us today to learn more!