Back to Blog
November 4, 2020
Meridian, ID Ranked 25th Most Livable City in the U.S.
If you've been looking for a great city in which to buy a brand new home and give your family the best possible lifestyle, Meridian, Idaho may be the place for you. Meridian, a suburb of Boise and currently the third largest city in Idaho, was recently ranked as the 25th most livable city in the United States. And with mortgage rates being so low, there's no reason not to make your move right now.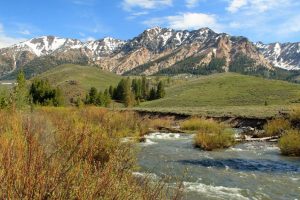 Living in Meridian – Why It's One of America's Top Places to Live
Meridian has a lot to offer everyone from people who are just starting out to those who are more established.
The population in Meridian is just under 100,000, although this number is a huge growth from five years ago – in fact, population in Meridian has grown nearly 25 percent over a five-year time period. The growth – which is more than five times that of the U.S. population growth rate – can be attributed to the fact that Meridian has a super strong economy, a strong yet reasonably-priced real estate market, a low poverty rate, and a low rate of violent crime.
In terms of the economy, the total employment in the city increased 8.7 percent over a recent two-year period, and that in 2016, only 3.3 percent of the workforce in Meridian was unemployed, a number lower than both the statewide and national averages.
As far as crime goes, the violent crime rate in Meridian is 109 incidents per 100,000 people. This number is less than one-third of the national average.
Now Is the Time to Buy
In addition to great job growth, a low rate of unemployment, and very little violent crime, Meridian is also an affordable place to live. The average home value in Meridian is $236,200, which while above the national median home value, is still quite manageable for the middle income range.
Meridian is a beautiful place to live, nestled amongst a backdrop of Boise's foothill mountains, with plenty of nature, trails and outdoor recreation activities, and lakes and wildlife close by. With interest rates low, now is the time to buy if you want to live in a brand new, never-before-lived-in home.
Come See Our New Homes in Meridian, ID Today
If you have been thinking about upgrading to the home of your dreams, Hayden Homes is here to help you, whether you are buying your very first home or just moving locations. Our homes for sale in Meridian are going fast, so if you're a homebuyer on the hunt, get in touch with us today.
In addition to homes in Meridian, Idaho, we also have homes available through the northwest, including Washington, and Oregon.