Back to Blog
June 1, 2021
Ideas to Transform Your Bedroom into a Retreat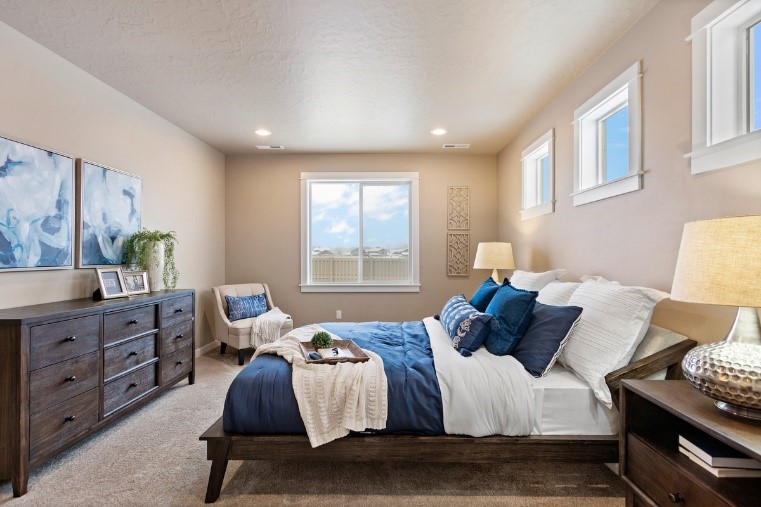 Sometimes main bedrooms sometimes get overlooked. Most people focus on decorating the living room or setting up the perfect kitchen, turning the bedroom into an afterthought. Our bedrooms hold a special role in our lives. They're where we can unwind after a long day and get recharged so we can do it all again the next day. This vital room deserves some attention! Transform your main bedroom into a personal retreat with these simple tips and tricks.
Cut the clutter
The main reason why you instantly feel at peace when walking into a hotel room is because everything is in its proper place. The counters are cleared, there are no clothes piled on the floor, and the bed is made to perfection.
Clutter can make you feel anxious and uncomfortable. Seeing piles around the room or full counters primes your brain to think of everything you should be doing. Spend some time decluttering your room, removing anything that belong in another part of the home, and finding a home for the items that will now live in the bedroom. Once you've decluttered, spend a few minutes every day maintaining your hard work by putting away anything you used that day and making your bed. Your room will start feeling more like a peaceful oasis.
Make a comfortable bed
Your bedroom is primarily used for rest and sleeping so you should invest in making your bed comfortable. Start with a supportive mattress that fits your specific needs. Thankfully there are a lot of options in every price range. Take your time and research possibilities within your budget and find a mattress you'll love laying on for years.
After finding the right mattress, complete your dream bed by selecting luxurious bedding. You can have fun with the prints but overall, choose sheets that feel soft against the skin, blankets and comforters that keep you warm and comfortable, and pillows that support your head and neck.
Light it right
Layer different types of lighting options to create a relaxing atmosphere. Softer watt light bulbs are essential for producing a peaceful space. These lights are great during the evenings to prepare your mind and body for bed. In addition, add some task lighting to provide ample light for activities like reading.
Keep it focused
Many people mistakenly turn their bedrooms into a multipurpose room, pushing in workout equipment, an office, or entertainment space. It's difficult to relax in a space where you're doing activities that keep your mind busy. Banish these items from your bedroom if possible and reserve the room strictly for relaxing activities.
Find a New Home Near You
You can create the bedroom of your dreams that you'll look forward to relaxing in each night in a new Hayden home. If you're ready to say hello to a new home in Idaho, Oregon, or Washington contact us today to find the home that's right for you.