Back to Blog
January 8, 2021
How to Incorporate Pantone's 2021 Colors of the Year Into Your Home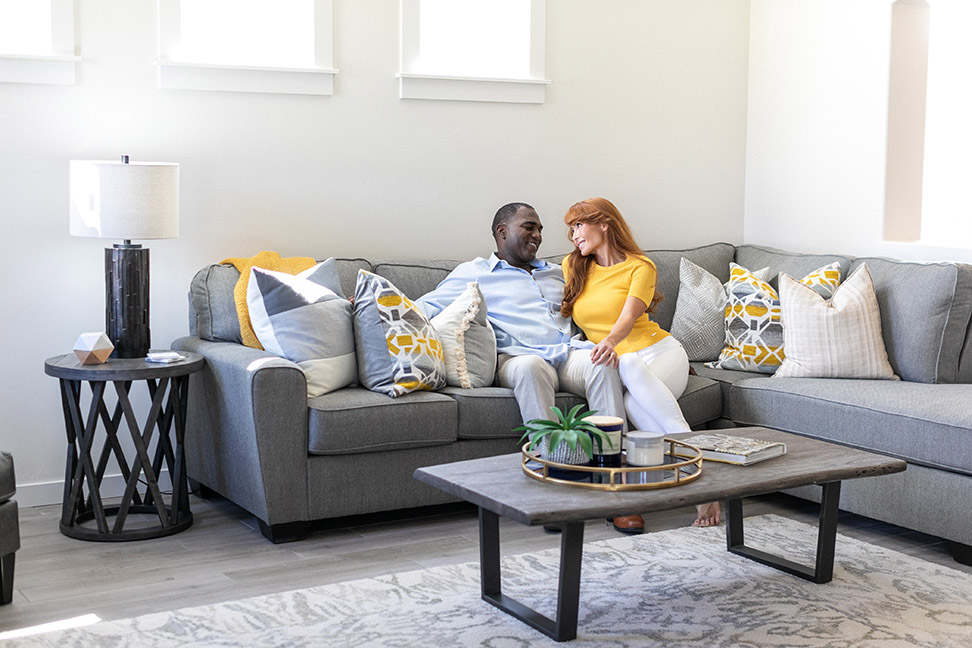 Using color in your interior décor is a great way to try out new trends. This year's Pantone Colors of Year, Ultimate Gray and Illuminating, are "A marriage of color conveying a message of strength and hopefulness that is both enduring and uplifting." 
Ultimate Gray and Illuminating, which is a bright yellow hue, are two independent colors that come together to support one another and we couldn't agree more that these colors work perfectly together to do just that! Here are some ways you can incorporate these vibrant colors into your home.
Kitchen Backsplash or Cabinetry
If you want to go all in and make a bold statement, we love the idea of making your kitchen pop with yellow backsplash. Ultimate Gray can be used throughout your home, but it is perfect for an accent wall or even cabinetry. These colors will look fashionable for years to come so you won't have to worry about repainting any time soon. Now, when you design a Hayden Home, we offer gray as an option when you're selecting your cabinetry color selections!
Furniture
Outfit your living room, bedrooms, or dining room with upholstered furniture. Ultimate Gray is a beautiful color on statement sofas, accent chairs, benches, ottomans, and more. Give them a pop of color, that will make you smile, by adding a throw blanket or yellow pillows.
Decorative Accents
Decorative accents like artwork and other smaller décor items (e.g. vases, lamps, bookends) are an easy way to add either Ultimate Gray or pops of color with Illuminating yellow, into your home in smaller doses. They're easy to change out as trends, the season, or your design tastes evolves.
Rugs and Linens
Area rugs and linens like bedding, towels, and even curtains offer another less permanent way to enjoy this trend. While Ultimate Gray is a classic color here to stay, you can compliment this color with yellow accents that are perfect for the any room, because the color is " Illuminating is a bright and cheerful yellow sparkling with vivacity, a warming yellow shade imbued with solar power." Think about using these colors in layers throughout your home with decorative pillows and throw blankets, a plush area rug, and duvet covers for the bed.
Kitchen Appliances and Cookware
Want to enjoy Illuminating yellow in your kitchen without committing to replacing your backsplash or walls? Colorful kitchen appliances and cookware are a great alternative, like a Dutch oven or even a stand mixer. Another option is looking out for serving platters and bowls in this delightful color.
Enjoy Your New Home!
Ultimate Gray and Illuminating yellow are two colors you will be sure to enjoy for years to come. If you're looking for additional inspiration, check out our Pinterest board to get inspired by these colors. If you're still on the hunt for your dream home, we have homes for sale in Washington, Oregon, and Idaho. We are ready to help you, whether you're buying your first home or purchasing your second or third. Contact us today to learn more!