Back to Blog
November 4, 2019
How to be a Good Thanksgiving Guest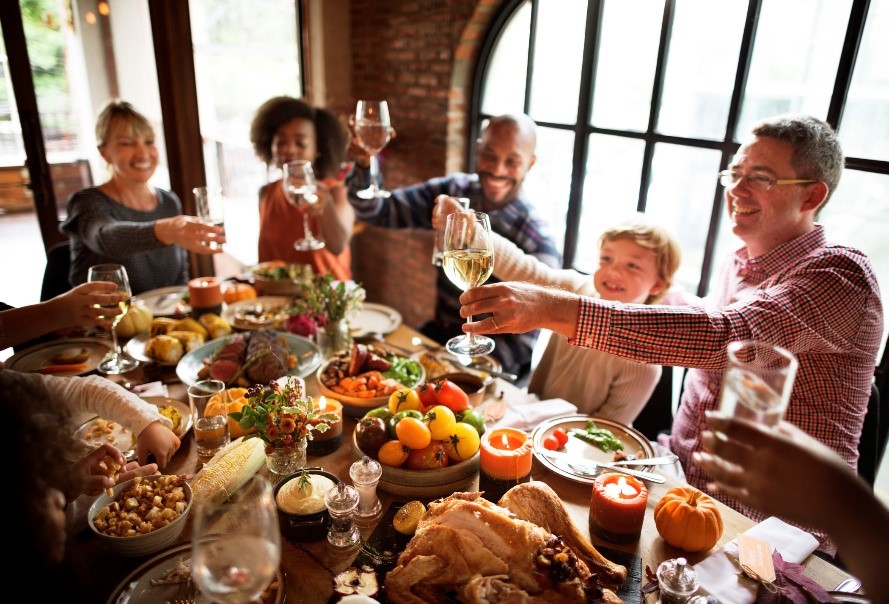 Most Thanksgiving guides offer tips for hosting Thanksgiving, but what should guests expect when they're not the ones cooking? Even though your role on Thanksgiving is smaller, here are some things you can do to be a great Thanksgiving guest.
RSVP!
If you're lucky enough to be invited to Thanksgiving dinner, be courteous by letting your host know if you'll be attending right away so they can plan appropriately. Don't show up with an unexpected guest! Always ask before bringing additional people.
Mention dietary requirements
Vegetarian, keto, gluten-free, vegan, or allergic to something? Let your host know if you have any dietary requirements, and offer to bring a dish that meets your needs that can be shared.
Always ask before you bring a dish
Your host will spend a lot of time thinking about the menu so if you want to contributing a side dish, ask!  If you do bring a dish, be considerate: bring a prepared dish (don't try to put it together in their kitchen the day of) in its own serving dish and utensils, and if your dish needs to be chilled or warmed up on the stove or in the oven, let your host know ahead of time.
If your host declines, consider bringing a bottle of wine or sparkling juice, making it clear it doesn't need to be served with the meal, or even flowers for your host as a thank you.
Be timely
It takes a lot of time and coordination to put a Thanksgiving meal on the table, so don't stress your hosts out by showing up too early or too late. If you do end up running late, or not able to attend, be respectful and let your host know as soon as possible.
Don't crowd the kitchen
The kitchen is the busiest room on Thanksgiving. The temptation to hang out in the kitchen to maybe get some taste tests before the meal but give the cook some breathing room and space by staying out of their way.
Offer to help clean up
Once the meal is finished, offer to help clean up but don't insist. Some hosts may have a system in place or would prefer to have their guests relax following the meal. Whether or not the host accepts, simply asking to help is always appreciated.
Don't linger too long
You don't want to risk overstaying your welcome.
Give thanks
Thanksgiving is all about being grateful for what we have. Embrace the Thanksgiving spirit and share your gratitude to your hosts for inviting by sending a thank you note.
Wherever you spend your Thanksgiving, we're sure you can find a lot to be thankful for this year. Do you want to host Thanksgiving next year? Or perhaps you need a larger home so you can invite more guests over. Whatever your reason, we have brand new homes throughout Washington, Oregon, and Idaho. Reach out to us today to learn more about our new homes for sale, and we hope you have a blessed and memorable Thanksgiving holiday!