Back to Blog
December 27, 2020
New Homes for Sale in Meridian, ID
If you have been looking for new homes for sale near Boise, ID, your search can come to an end. At Paisley Meadows, Hayden Homes is proud to offer brand new homes in a luxurious community centered in Meridian. Not only is Paisley Meadows an ideal place to buy your dream home, with tree-lined streets, picturesque scenery, and large homesites, but Meridian itself is a wonderful city in which to live. Whether you're buying your first home or looking to upgrade to something newer, here's what you need to know about life in Meridian.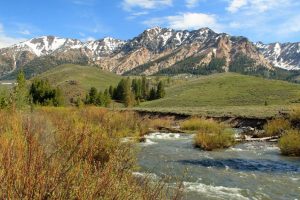 Life in Meridian – A City You'll Love
We're not the only ones who think that Meridian is a wonderful city; Money by Time Inc. recently named Meridian as one of the best places to live in the United States. Some highlights of Meridian listed by the Money article include:
Meridian has been the fastest-growing city in Idaho for more than two decades;
The city is planning for a population surge of 98 percent in the next 30 years;
Unemployment rates in Meridian are low;
Household income is above the state average;
Home prices are solid and affordable – the average home price is just about $245,000;
Job growth between 2016 and 2021 is forecasted to be 9.2 percent;
Meridian provides a lot of access to the outdoors, and has nearly two dozen parks;
Meridian is located within driving distance to both downtown Boise and Boise National Forest;
The city is sunny – there are more than 200 days of sunshine in this town; and
Meridian offers a fantastic education system – the high school graduation rate is nearly 90 percent (higher than the national average).
Meridian is a great place to live at all stages in your life, whether you're just starting out and looking towards the future, you are a family with kids or who is planning for kids, or older and ready to embrace retirement years. There is plenty of room to grow in both Meridian and a new home by Hayden Homes.
New Homes for Sale in Meridian, ID to Make You Fall in Love
If you're not already in love with Meridian based on the description given above, you may fall in love with your brand new Hayden Homes' abode. Our homebuilders create homes that really 'wow', and throughout the entire process, we prioritize building a home that turns your dream into a reality. Not only are our floorplans attractive, view a gallery of our homes here, but we commit to quality, offer custom features, and offer the Hayden Homes' warranty. We also make home buying easy, with simple and straightforward financing options available.
We'd love for you to come see some of our brand new homes for sale in Meridian, Idaho today. If you don't fall in love with this city, we have homes throughout the Northwest, including homes in the states of Washington and Oregon as well. Come check out our homes today or contact us to learn more about buying new from Hayden Homes.