Back to Blog
November 24, 2019
Holiday Lighting and Decoration Tips & Tricks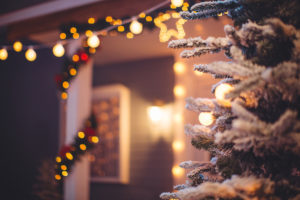 It's that time of year! What better way to kick off the holiday season than with some festive lights and crafty decorations? If you're like a lot of people, you may just decide to "wing it" and maybe that works… however, why stress yourself out by feeling unprepared? There are a few simple things you can do to help prepare yourself and your home for the upcoming holiday décor. We want to help ease your stress, so we've put together a few holiday tips and tricks to help ensure your vision for an exceptionally decorated home is as stress free as possible.
Most important, Stay Safe!
Holiday lights involve a high amount of electricity, try to avoid connecting too many strands together which can overload the circuit. Also, be sure to check your GFCIs which is the ground-fault circuit interrupters, this causes an automatic turnoff if there is any overheating in the electrical circuit. Turning your outside lights off when you're asleep or away from home can ease your worries.
Are your lights safe for outdoor use?
With the potential for harsh winter conditions, throughout the Pacific Northwest, it's important to ensure your holiday lighting will hold up to the elements. Check the package for UL outdoor ratings, these can be used both indoors and outdoors. Don't assume your lights are safe from the damp-cold weather just because the wires are coated, make sure to check that they are weatherproof.
How to plan your design
Keep it simple! (Well unless you'd like your home to be seen from miles away.) Decorating can be overwhelming, and you may not know where to start. To start, we recommend choosing a focal point. This will help you focus primarily on one area, taking the stress away from feeling like you need to bedazzle your entire house.
Examine your home and measure
Check out your gutters, shingles, and the overhang from your roofline to determine how to best hang your lights. A few popular spots for holidays lights are along your rooflines, around pillars and windows, door frames and even near driveways. Let's not forget to measure how many lights we will need. Measure the area you're wanting to hang lights and find the nearest power strip; this will help ensure you have enough lights for the area you're wanting to cover.
The holidays can be a stressful and overwhelming, however, they do not need to be, by following these simple tips you will feel more prepared for when you're ready to start decorating your new home. Just remember, stay safe and have fun with it!
Enjoy the holidays in your new Hayden home!
We hope you enjoy your holidays in your new home by Hayden Home. One of the best things is being able to spend time with the people who matter most. If you're thinking of buying a new home (or even your first home), we have homes for sale in Idaho, Washington, and Oregon. We're looking forward to helping you find your dream home in the Northwest!