Back to Blog
October 10, 2018
Warm & Cozy Fall Essentials for Your New Home
There's a chill in the air and the leaves are already starting to change colors. As the weather cools, now's the time to start thinking about warm and cozy fall essentials that will not only provide a little comfort during the cooler weather, but can also contribute to the perfect home ambiance. Here are some of our favorite home additions.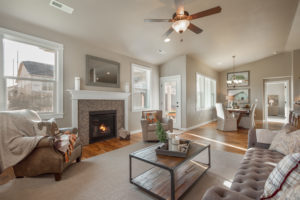 Setting the Tone in Your Sitting Area
Conversation is important, and when the weather is cool out, there is nothing better than cozying up in an oversized chair or on a nice couch and chatting with loved ones. Make sure your home has a great conversation area. If you have a fireplace in your home, a conversation area near your fireplace is an added bonus!
If you already have a great sitting area, add a bookcase and fill it with your favorite reads. This ensures your room doubles as both a cozy conversation spot and a nice area to get some solo time. You can also stack the bookcase with puzzles or games to encourage social activities!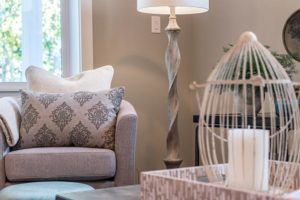 The Right Lighting
In the fall, the right lighting can do wonders in terms of warming your home and creating the right mood. This is especially true during the winter months in the Northwest when we have shorter days. Does your dining room fixture not put out enough light? Upgrade to something with bigger sized light bulbs and that can make a drastic difference during evening hours. Also, try soft mood lamps, candles, or even an artificial flickering light that resembles the light given off by a flame.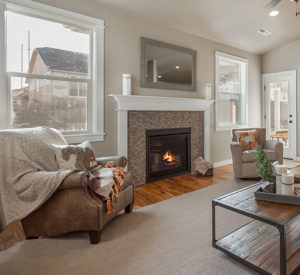 Blankets and Blankets and More Blankets
Invest in some blankets and throws that are soft, warm, and of a warmer color tone (think deep reds, browns, grays, blacks, burnt oranges and yellows, and warmer shades of white). Blankets can be thrown over armchairs and couch arms, or be rolled into fashionable buckets that add a little extra decorating flair. These will also come in handy for those spooky halloween movies everyone loves.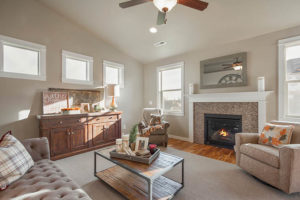 Consider Adding Some Fall-Specific Elements
One way to make your home feel warmer and to embrace the change of seasons and the fall holidays that are to come is to add some fall-specific elements. Some of our favorites are:
Decorating with different squashes or gourds;
Wreaths outfitted with fall plants and colors, including leaves, berries, and even nuts;
Pressing leaves between two pieces of glass and framing them;
Using twigs and branches as decorative additions to a vase of fall flowers.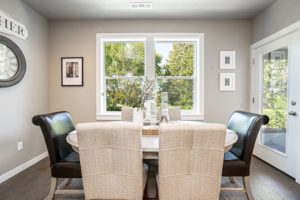 Turn Your Dining Area Into a Place People Want to Be
Dining rooms and dining tables often get a bad rap for being uncomfortable and boring. But if you plan on hosting any holidays meals this season, or having guests over for dining otherwise, there are a few things that you can do to really warm up the room and improve people's comfort. Start by making those straight-backed, hard surfaced dining room chairs more physically comfortable to sit in by adding cushions to them. This will encourage your guests to spend more time at the table, and can add some fall festive flair with the right colors and pattern.
Then, focus on lighting; harsh lighting isn't welcoming, and can really ruin the mood during the fall. But the issue may not be with the lighting so much as the wall colors. Consider painting a single wall a warmer color and that can make a big difference in the overall feel of the room.
Finally, decorate your table. Use a patterned table runner to draw attention, and place candles, different pumpkins and squashes, decorative skulls, or/and a vase with flowers in the center to celebrate this wonderful time of year.
Enjoy Your New Home!
At Hayden Homes, we hope that you're enjoying your new home this fall season. If you're still on the
hunt for your dream home
, we have homes for sale in Washington, Oregon, and Idaho. We are ready to meet with you! We work with those at every stage in the home-buying process, whether you're buying your first home or purchasing your second or third.
Contact us today
to learn more!