Back to Blog
January 16, 2020
Declutter Your Home for the New Year And Beyond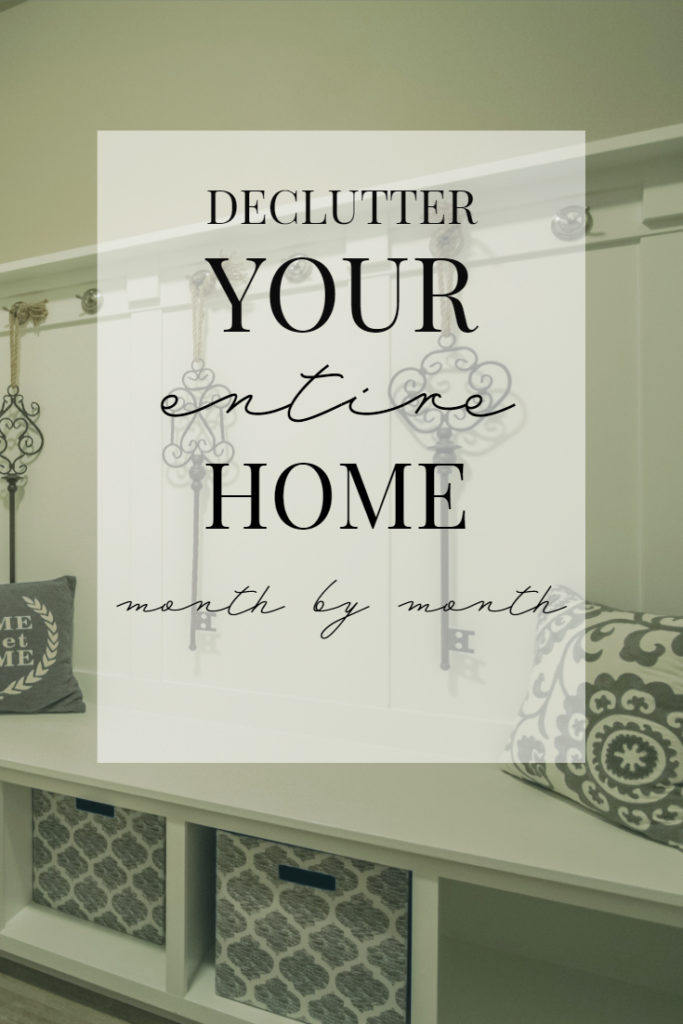 Everyone wants to start the new year in a clean and organized space, but decluttering your home can feel like a daunting task. You may start out inspired to tackle the mess in your home, only to have that inspiration wane over time. Instead of trying to declutter your entire house from the start, stretch the process out over the year. Not only will this keep you motivated to continue doing the work, you'll also enjoy the satisfaction of having a consistently decluttered space. In this blog, we provide you with a suggested focus for each month of the year, so you can check that off your list!
January: Kitchen/Pantry
The kitchen is the heart of the home and tends to have the most stuff. The cabinets are filled with food and pots and pans, the drawers are stuffed with cooking tools and utensils (not to mention the odds and ends in the junk drawer) and the counters are covered with appliances and maybe even mail. Before you throw your hands up and give up, here's how to break down the process:
Sell, donate, or toss specialty appliances, cookware, and dishes you no longer use or need
Toss or recycle food storage containers with missing lids and giveaway cups you don't need
Empty the pantry and donate any unopened nonperishable food items and toss anything that's expired or you don't use
February: Home Office
With tax season in gearing up, this month is the perfect time to declutter and organize, not only your home office, but also any paperwork (both physical and digital).
Sort through any piles of paper and decide what to file, shred, or recycle
Clean up any unused files on your computers and back up any data
Switch to paperless billing whenever possible
March: Closet
The closet might be one of the most daunting areas of the home to organize. But don't worry, it doesn't have to be overwhelming! With the changing seasons, now is the perfect time to streamline the closet. Try on all clothes and keep what still fits and makes you feel good. Sort through clothes and keep only what truly makes you happy. Here are a few more tips to help you through this process:
Sell or donate clothes, shoes, and accessories that are in good condition, tossing anything that's beyond repair
Launder and store any winter items for next season
Repeat this during the fall season
April: Bathroom and linen closets
A clean, well-organized bathroom is a mood booster and makes hosting guests (even last-minute ones) less stressful. Place most used items at eye level so they're easier to find, placing items you don't use as often on higher shelves in the medicine cabinet.
Also take time to review your linens, donating items in good condition or tossing anything that's worn (or repurpose them into rags) and update with new items as needed.
Move moisture or heat sensitive medications to a different location (make sure it's safely out of reach of children)
Toss expired and unused makeup and skin-care products
Safely dispose of expired medication
May: Laundry Room
The laundry room sees a lot of action during the year, making it one of the hardest-working rooms in the home! Keep clutter at bay by creating a place for everything. Store cleaning products out of reach of kids and pets. And take time to clean your washer and dryer.
Designate a small basket or jar to hold found items from pockets and a basket to hold missing socks or gloves until they can be paired up again
Sort laundry before it going to the laundry room to avoid the dreaded piles
June: Garage
Before summer activities and travels begin, take some time to organize the garage. Remove any sporting equipment the kids may have outgrown or no longer use, inspect lawn care and gardening tools, and check outdoor furniture and toss worn-out pieces. When you're ready to organize your space, think in categories, like sports equipment, gardening tools, holiday décor, etc., and group like items together.
July: Living areas
The living room is a well-used space, from cozy movie nights to game watching parties, it's often where the fun and action is when hosting family and friends. Make this space more enjoyable by imagining what activities you want to take place in these rooms and furnish the room in a way that supports this desire. Store magazines, movies, and electronics out of sight behind a cabinet or in a console table.
Return items that belong in other rooms to their proper space each night
Sell or donate old DVDs, CDs, books or other entertainment accessories you don't use
Identify catch-all areas and use baskets to hold these smaller items while reducing visual clutter
August: Bedrooms
Bedrooms are meant to be serene and rejuvenating spaces. It's tough to relax when you're staring at a pile of clothing on the floor! This goes for kids' rooms as well! You'll feel instantly more relaxed once you declutter and organize your room. Start by removing anything that doesn't belong in the bedroom, like dishes and paper and even consider removing extra furniture pieces.
Make your bed everyday
Make it a habit to put away clothes and items instead of letting them pile up on surfaces around the room
Clear away unneeded items daily from nightstands
September: Entry spaces
School is back in session and the entryway of your home will be busy! Thanks to their prominent Entryways tend to be tricky to organize but not impossible.  Put away out of season items (like winter coats during the summer), allocate space for small items like keys, mail, and other small personal items.
Make it a habit to sort through any baskets or trays in the entryway to remove junk or replace items in their proper place
October: Entertaining supplies
Get ahead of the curve and take stock on your entertaining supplies. With holiday entertaining looming ahead, you'll be glad you're ready to welcome guests.
Inventory your dinnerware and serving pieces and consider whether you have enough pieces or will need to purchase more
Toss worn out or stained tablecloths and other linens
November: Kitchen/Pantry
The holidays are back around so it's time to prepare your kitchen and pantry ready for this year's feasts. Restock on pantry staples; take stock of dining ware, purging chipped pieces and replace as needed, and cooking utensils and tools.
December: Clear Clutter
You're probably expecting to get new items this holiday season so now is a great time to begin reviewing your belongings and getting rid of items that are no longer of use to you (as always, sell or donate items that are in good condition!). This can also apply to holiday decorations. That way you can avoid the struggle of trying to store everything at the end of the holidays this year!
Stretching your decluttering tasks throughout the year turns a potentially overwhelming project into manageable bites. Not only that, you'll create a sustainable habit of keeping your home in its best shape.
At Hayden Homes, we have beautiful new homes throughout Washington, Idaho, and Oregon. Contact us today and we'll be here to help you find your dream home this year.