Back to Blog
July 17, 2018
Backyard Ideas for Your New Home
Part of the excitement of buying a brand new home is deciding how you want to decorate both inside and out. If you've recently purchased a new home and have big plans for your backyard but aren't sure where to start, here are some great backyard ideas for your new home.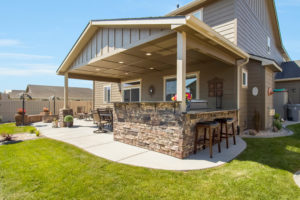 Outdoor Dining
If you love to eat outdoors, and let's be honest who doesn't, you may want to focus your backyard on an outdoor dining set up. This can be created with the installation of an outdoor patio or deck and a nice outdoor dining set. In addition to the basic table and chairs, the right lighting can add a magical ambiance. Outdoor dining arrangements are often nicely accompanied by pergolas and honeysuckles, which can provide shade on hotter days. If you don't have an outdoor grill yet, consider buying one that you can grill and smoke meats and/or vegetables on. There are a lot of wonderful food smoking recipes that you and your guests will love.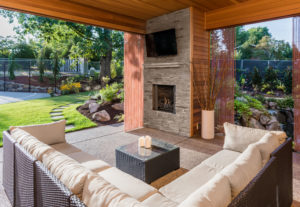 Outdoor Living Space
If you just can't get enough of the outdoors, investing in an outdoor living arrangement may really hit the spot. An outdoor living arrangement will include an outdoor dining set and may also expand to include outdoor chairs and recliners or benches, a built-in firepit, and perhaps even a full outdoor kitchen. Hot tubs are another favorite addition if you can afford one. You can look for deals on outdoor furniture when sets go on clearance at the end of the summer. Whether you are eating in your backyard, playing card or yard games, or just want a cozy corner to read a good book, you can find a lot of creative outdoor living ideas on Pinterest or by doing a simple Google search.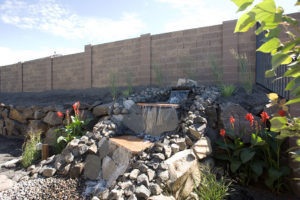 Peace and Serenity
Some people want their backyard to offer peace, serenity, and a chance to reconnect with nature more than anything else. In order to achieve this, it can be nice to incorporate two of the most natural elements: fire and water. To do so, consider the installation of a gas or wood burning fire pit and a water feature, such as a small pond or fountain. Enjoying the sound of trickling water doesn't have to come at a high cost. Plenty of shade and greenery is necessary to achieve the feeling of being in nature, too. Bird feeders and bird baths can be a nice touch as well.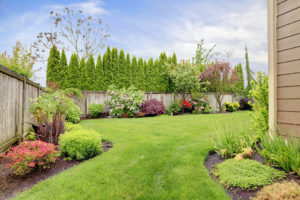 Lush Gardens
You may be excited about your new yard because it offers you the chance to grow all of your favorite fruits, veggies, and other plants. Gardens are not only a wonderful way to connect with the earth and potentially grow food for your family, but also a visually appealing addition to a yard, too. You may opt for a large plot that allows you to grow a wide variety of veggies, a smaller plot in a corner for a salsa garden, or even a series of designated garden boxes throughout the yard – one for tomatoes, one for herbs, one for peas and beans, etc. Whatever you do, allow plenty of space for your plants to grow as they will need as much sunlight and oxygen as possible to thrive.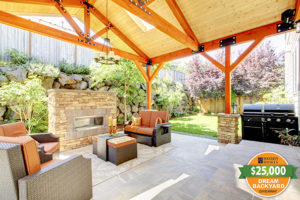 What Are You Looking for in a Great Backyard?
Your backyard is your own canvas and anything is possible with some imagination and hard work. Whether you have landscaping experience or not, with a little help, you have the potential to transform your backyard into a paradise that brings you joy for years to come.
At Hayden Homes, we're as excited about getting you into your new home as you are. Whether you're buying your first home or upgrading to your dream home, we make working with us straightforward and easy. To learn more about our homes for sale in Washington, Oregon, and Idaho and meet with our Northwest home builder, contact us today online or by phone. We can't wait to help you find your new home!
Even Better… Enter to Win your own dream backyard, NOW thru August 15th, 2018!