Back to Blog
January 5, 2018
Announcing the 2017 Dream Backyard Winner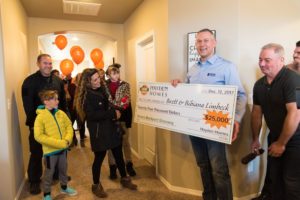 Our 2017 Dream Backyard Giveaway Contest has officially come to a close after the announcement of the winner Tuesday, December 12th. 2017. The announcement proved to be an emotional one as the holiday season came early for one lucky Central Oregon family after learning they had won the $25,000 Dream Backyard Giveaway.
Brett and Bibiana Limbeck of Redmond, Oregon had just finished their framing walk through and were headed back to the model home to warm-up when they were greeted by a crowd of excited people, champagne and and balloons. But despite being in shock, "I never thought we would win," said Bibiana, the Limbecks are looking forward to creating a relaxing oasis where they can enjoy time together as a family.
The Limbeck's purchased their home in the Hayden Homes' Obsidian Trails Community in September 2017 and entered the drawing along with 6,000 other people who stopped by a Hayden Homes model home in Washington, Oregon or Idaho, or visited the Hayden Homes website during the summer Backyard Giveaway promotion. The couple, along with their four children, Anthony, Kevin, Brandon and Madison. will be moving into their new home in March of 2018.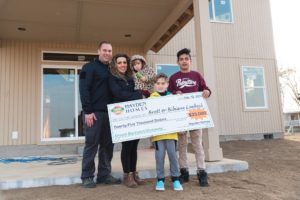 The Limbeck Family will have the opportunity to design their dream backyard with help from Hayden Homes' Chief Executive Officer, Dennis Murphy. The first design meeting will take place in February, which will allow the Limbeck family to visualize a relaxation space that suits their needs and interests. All plans will be finalized in time for the installation of the new backyard in summer 2018.
This exciting announcement was picked up by the Central Oregon Daily as well as the Cascade Business News! You can watch the Redmond family celebrate the exciting news HERE or read the full article from Cascade Business News HERE!