Back to Blog
July 11, 2018
6 Essential Tips for First Time Homebuyers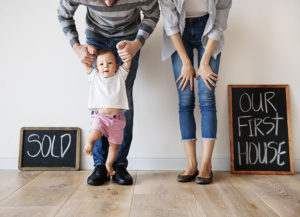 Buying your first home is one of the most exciting ventures of your life. Whether you're buying an existing home or working with a builder to construct a new home, there are a lot of things you need to keep in mind to set yourself up for the smoothest, most enjoyable experience possible.
1. You'll Need to Budget for More than your Mortgage
One common mistake first time homebuyers make is building their budget around their new mortgage. In reality, your monthly expenses will be more than your mortgage payment. They'll include:
Property taxes;
If applicable, mortgage insurance;
Utilities;
Maintenance costs;
Homeowner's insurance; and
If applicable, HOA fees.
2. Don't Open Any New Credit Lines Before you Close
Pay close attention to your credit while your mortgage application is pending, because everything you do will affect your credit score and your application. The time to make and large purchases or do things like finance new furniture for the home is after you close and move in, not while you're waiting for approval.
3. Get Pre-Approved
Since the recent housing-market crash, securing a loan can be harder than it used to be. In addition, the housing market is competitive. Therefore, it's better to get pre-approved before you start looking for a home or make an offer. Wherever you decide to go for your home loan, you can submit your financial information and get a pre-approval letter for the max amount that they are going to loan you. You may find, through this process, you can afford more than you think.
4. Be Willing to be Flexible – And Creative!
Don't go into the home search with a specific type of home in mind. Instead, go into it with specific needs in mind, like the number of bedrooms you need or a home with a driveway and a garage. Do you want an open floorplan? Do you want something new with modern appliances and building materials? Asking yourself these types of questions will help you narrow down the homes you look at based on what fits your needs.
5. Determine your Options for Tax Credits and Other Perks
Many states and municipalities offer first time home buyers tax credits and other perks to promote purchases. You might qualify for a low interest mortgage loan, a specific tax credit, or a special assistance program that makes homes more attainable for first-timers. Your real estate agent and loan officer, should be able to talk to you about the various perks and programs you qualify for.
6. Don't Get Too Emotionally Attached
This one's as important as the others, and it can be more difficult. When you visit a home for sale or look at a model home with a builder, it's easy to fall in love. You might immediately see what you'll want to change in the home and how you'll fill its spaces with your family. But until the day you close on a home, it isn't yours.
There are different things that could cause you to have to back out of a deal between making your initial offer and closing on a home. If your buying resale, maybe the home inspection comes back that there's substantial water damage inside the home's walls, which means you'll have to begin a large-scale renovation project before you can move in. Maybe something comes up in your personal life that causes you to have to put the home buying process on hold. Keeping an even head throughout the home buying process will help you make smart decisions and avoid heartbreak if things don't pan out.
Move into your Dream Home by Working with an Experienced Home Builder
At Hayden Homes, we work with first time and experienced home buyers and we will be attentive and supportive during this exciting time in your life. Whether you're looking in Oregon, Washington, or Idaho, our team can help you move into a home that's just right for you at any stage in life. Contact us today. We look forward to answering any questions you may have about preparing for, and making, your first home purchase.