Back to Blog
August 9, 2021
5 Easy Ways to Upgrade Your Home Office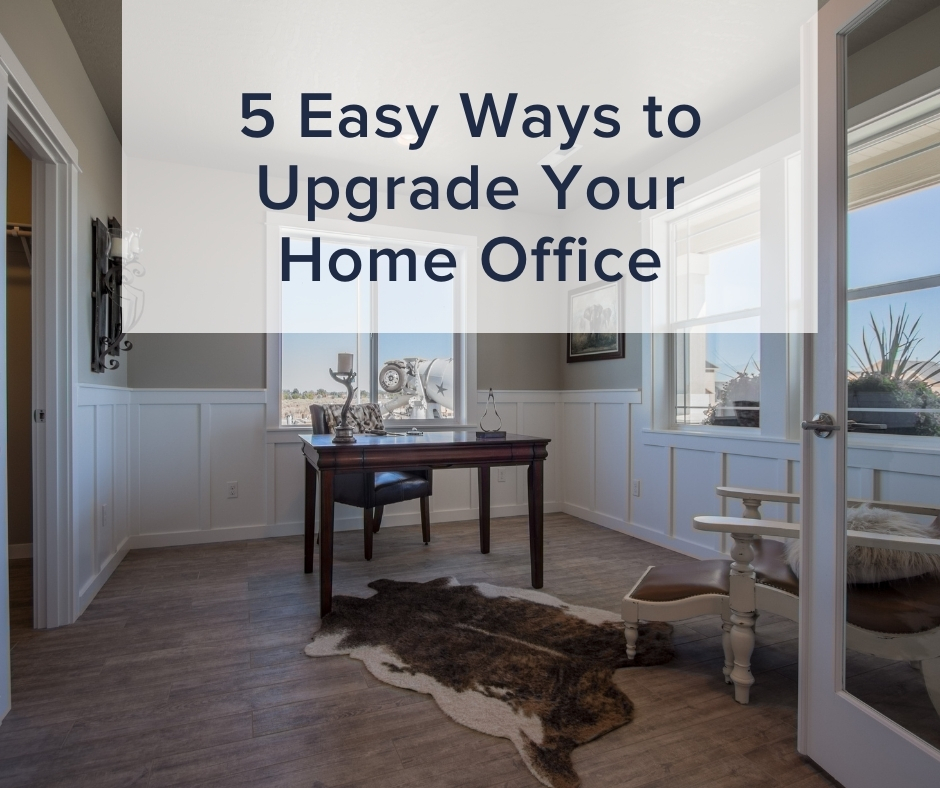 The past year has shown that work can still be done away from the office. Even as offices are reopening, many people are choosing to work remotely at least part time.
If that's the case for you, your home office may need an upgrade to accommodate your new work situation. Thankfully you don't need a large budget to take your office to the next level. Here are some top tips for upgrading your home office so you can remain productive.
1. Declutter your space
Decluttering remains the top advice for every interior design project. Why? It helps clear the space so you can really focus on what you need so you can work. Spend some time going through your workspace and removing objects you no longer need.
2. Upgrade your chair
The chair you sit in is worth splurging on! You spend a lot of time sitting at your desk so an uncomfortable chair can decrease productivity and possibly cause back pain. Invest in a chair that provides adequate support through the day and encourages good posture. If a new chair isn't in the budget just yet, you can make your current chair more comfortable by adding a back pillow for additional lumbar support.
3. Improve lighting
Lighting is important, especially if your office wasn't originally designed to be a workspace. Your home office should have a mix of natural, ambient, and task lighting. Proper lighting will reduce eye strain and fatigue. Place your desk in front of a window to get as much natural light as possible. If your workspace gets little to no natural light, use LED or full-spectrum lights. Here are some additional tips for getting the right light in your home office.
4. Divide the room
If your workspace is in a shared space, use room dividers to separate your work area from the rest of the room. Room dividers serve multiple purposes: they create a private area where you can focus on your work, provide additional storage, and a suitable background for virtual meetings.
5. Add personal touches
This is a definite benefit of working from home. You have the freedom to decorate your office as you see fit! Hang eye-catching art, display your favorite decorative pieces, accessories, or houseplants near or around your computer. Not only do these pieces help you feel more motivated, they also give your eyes a place to focus on. This will help you reduce eye staring and fatigue from staring at the computer screen. These thoughtfully chosen pieces can help you feel more motivated,
You deserve an interesting and functional workspace even if you're working from home. You'll thrive and feel more creative and productive when you're working in a space you love. These simple upgrades will make it easier for you to remain focus and motivated every work day.
Contact us today if you're on the hunt for your dream home. We have beautiful homes for sale in Oregon, Idaho, and Washington that fit every lifestyle. We are ready to help you, whether you're buying your first home or purchasing your second or third. We look forward to welcoming you home.