Back to Blog
October 17, 2023
A Guide to Planning a Housewarming Party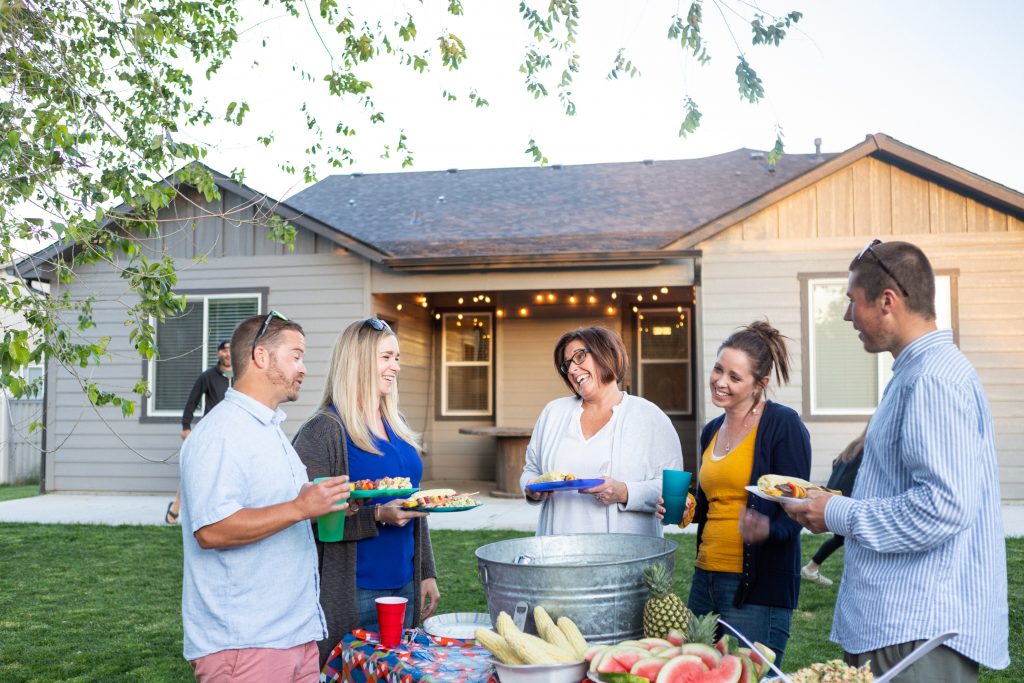 A housewarming party is a perfect way to kick off a fresh start in a new home. It is an opportunity to welcome friends and family, show off your new home, and celebrate a milestone. But hosting can be overwhelming, especially if you have just moved in. So, if you are looking for some guidance on how to throw a great housewarming party, you are in the right place. Here are some tips to help you plan, organize, and throw a fantastic housewarming party.
Plan ahead
Planning is essential to any party, and a housewarming party is no exception. Choose a date after move-in so you have plenty of time to unpack, arrange, and decorate your new home. Make a list of everything you will need, like decorations, food, drinks, utensils, and serveware. Set your budget and stick to it. Create a list of guests you want to invite and send out invitations at least two weeks in advance.
Keep it simple
You don't have to go all out with your decor or menu. Instead, focus on creating a warm, welcoming environment. When it comes to decorating, your new home should already be the star of the show. Supplement your home's decorations with candles or flowers. Lighting has a way of bringing warmth and intimacy to any gathering, so soft light will bring your home to life. Simple touches like decorative string lights or outdoor lighting can add a unique ambiance to your backyard.
Plan the menu
The menu is the highlight of any party and is something most guests look forward to. The good news is that the menu doesn't need to be fancy to be a hit. You could go for simple yet satisfying finger foods, snacks, and appetizers. Chips and dip, meatballs, cheese and crackers, and fruit skewers are perfect crowd-pleasers without breaking the bank. Your guests will appreciate any effort you put in, so be creative and go for something that suits your taste.
Have a beverage bar
You don't have to be a pro bartender to set up a beverage bar. A cooler full of ice, a variety of beer, wine, and soda, and a few mixers should be enough. Consider having a signature cocktail that ties into the theme of your party, but makes it simple to prepare. Water dispensers with infused fruit, lemonade, or iced tea are also great additions to your beverage bar.
Show off your home
Your guests want to see your new home, so make sure you take the time to give them a tour. Highlight the features you are most excited about, like a new kitchen island, a unique piece of art, or a cozy reading nook.
Activities & entertainment
Your guests will be impressed by taking the time to create fun activities and entertainment options. For example, you could set up a photo booth with props, have board games, a DIY ice cream bar, card games, or even a karaoke machine. These activities will keep the party flowing and your guests mingling!
Consider inviting your new neighbors
If you've just moved into a new neighborhood, you may want to consider including your new neighbors on the guest list. The party is a wonderful way to meet new people and establish some community connections.
Thank your guests
The last but equally important step is to thank your guests who showed up to your occasion. Follow-up notes or messages are the best way to show your appreciation to those who made your housewarming party a memorable event!
Hosting a housewarming party is a good way to celebrate your new home and connect with your friends and family. The key to a successful party is to keep it simple and plan ahead. With a little creativity and effort, you can create a welcoming atmosphere that your guests will enjoy. Remember to take lots of photos and savor the moment, because hosting a housewarming party is an accomplishment worth celebrating.
Ready to celebrate in a new home? Hayden Homes is here to help. We build new single-family homes in Idaho, Oregon, Montana, and Washington for every stage of life. Contact us today to learn how we can help get you into your dream home.