Back to Blog
September 26, 2023
6 Effective Ways to Define Spaces in an Open Floorplan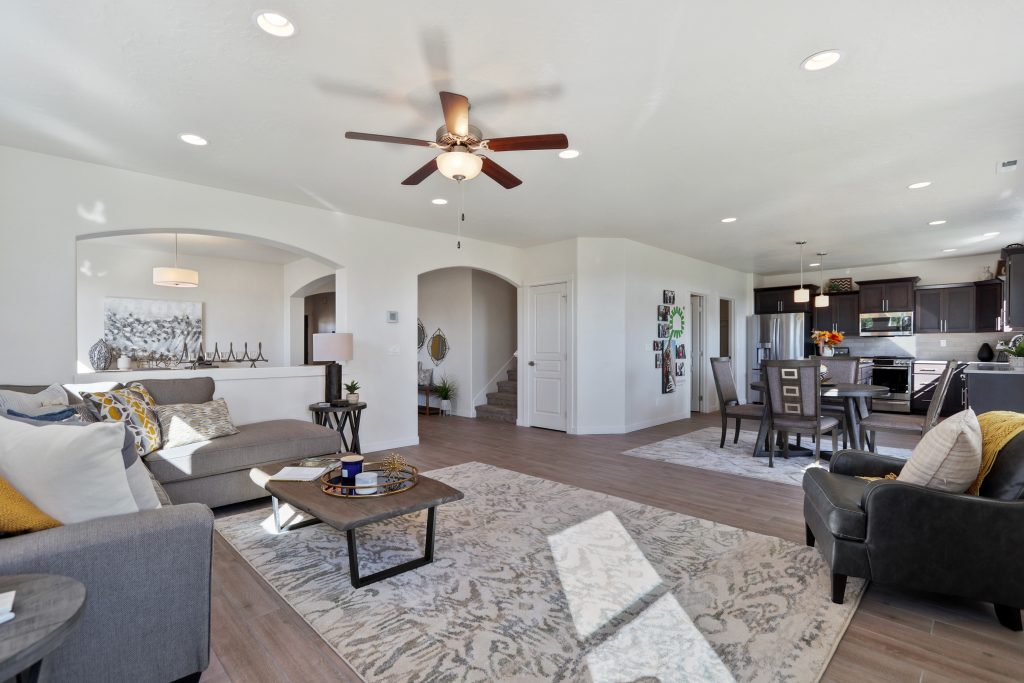 Open floorplans have become increasingly popular in both new homes and remodels over the past few years. They create a sense of spaciousness and allow for natural light to flood the entire space. However, with open floorplans comes a challenge: how do you define different areas or zones within the open space? The good news is, there are many creative ways to do just that! Here are six of the most effective and stylish ways to define spaces in an open floorplan.
Use furniture to create zones
Proper furniture arrangement is crucial in an open floorplan. You need to create visually dividing lines between different areas in the floorplan. Place a sofa and a couple of chairs in a way so that they face each other to create a conversation area. This set-up can make an area feel distinct even without physical barriers. You can also use a console table to separate your entryway from your living area and add floating shelves to separate the kitchen from the dining area.
Incorporate different flooring
You can use flooring materials to define spaces too! Hardwood flooring can add a warm and inviting feel to living zones, while tiles in the kitchen add functionality and longevity. You can also add a pop of color or texture that will add personality to your space. For instance, using patterned tiles in the entryway or a shaggy carpet in the sitting area creates visual differences and enhances the overall look of your open floor plan.
Separate with rugs
One of the easiest ways to define spaces in an open floorplan is by using area rugs. By laying down a floor rug, you create a focal point for your living area while also drawing a visual line between different living spaces, such as the dining and living rooms or kitchen and living area. It also provides a cozy feel and adds texture to your home. You could layer a large rug under your living room furniture and a smaller one under your dining table to keep the open space but visually separate the two areas.
Use plants and greenery
Plants are not only beautiful, but they can also serve as an effective way of defining zones and adding natural elements. Placing greenery and plants in your living space creates separation or a sense of a defined area without compromising the open feel. Hanging plants or tall fig trees can add vertical interest to a space and create a visual boundary between different areas.
Add lighting
Well-placed lighting fixtures can work wonders in defining spaces in an open floorplan. Pendant lights or chandeliers are popular choices because they not only provide ample lighting but also create a natural separation between living areas without bogging down the airy feeling of an open floorplan. A milder version of this would be to use different lamps in different areas, with a floor lamp for reading and a table lamp for some soft light on the sofa.
Use color
A cohesive color flow is one of the most important ways to define a space successfully. Using specific hues or material textures in various areas of the open plan can create a visual division without using physical partitioners. You can opt for different wall paint colors or choose different materials such as tile or wood to differentiate between living areas. A smart trick is to use different shades of gray or contrasting neutral colors between your living room and dining area.
Defining spaces in an open floorplan is all about highlighting the beauty of your home while still maintaining privacy in each area. By incorporating these creative techniques, you can achieve defined areas and zones without feeling cramped or claustrophobic. From furniture layouts to color schemes, there are endless ways to define spaces within an open floor plan. With a little creativity and imagination, you'll be able to create zones that maximize style and function in your home.
Ready for a brand-new home? We offer affordable new homes in Oregon, Montana, Washington, and Idaho that fit your needs at any stage in life, backed by our commitment to quality. Contact us to start your journey to a new home.