Back to Blog
October 25, 2021
5 Holiday Traditions to Start in Your New Home This Year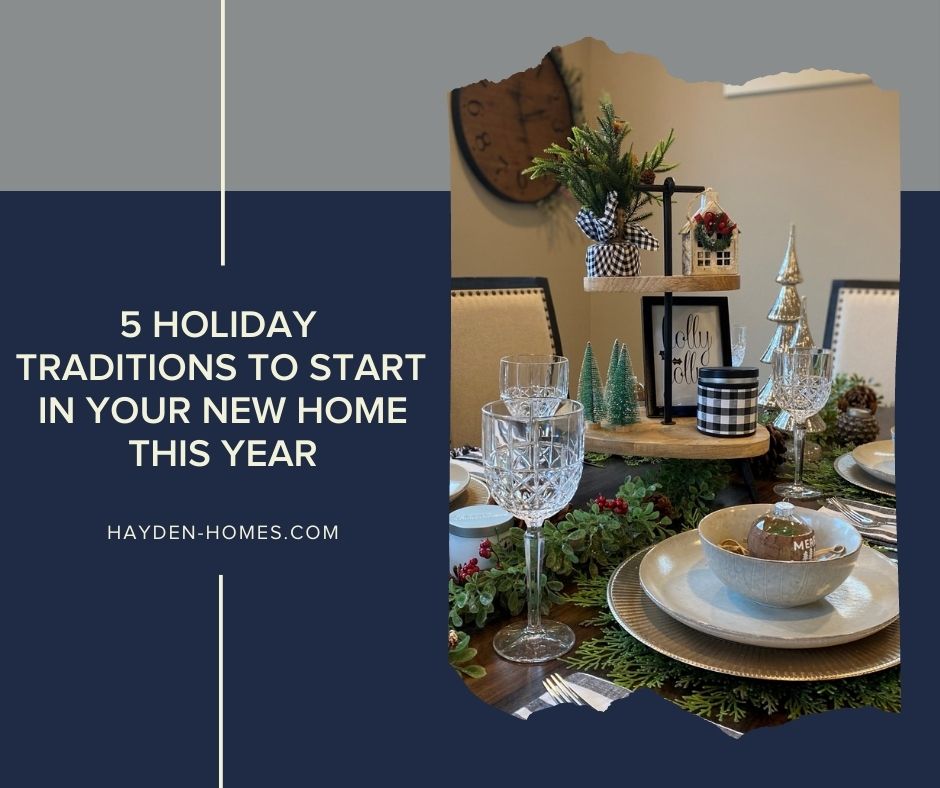 The holiday season is our chance to step back from the hustle and bustle and celebrate with loved ones, though it sometimes feels like the weeks between Thanksgiving and New Years pass in a blur.
Some holiday traditions may stay the same every year but there's always room to add a new tradition to the mix, especially as children grow older, or you want to change things up a bit.
Here are 5 holiday traditions you can add to your festivities to celebrate the holidays in a new way, in your new home this season!
Bake a Signature Treat
Think back to your own holiday memories: is there a special treat you only got to enjoy this time of year? Recreate that anticipation by coming up with a signature sweet you can make as a family during this season. It can be a time-tested family recipe or try your hand at baking a new-to-you traditional holiday sweet like a buche de Noel, Gingerbread houses, peppermint bark, rugelach, or even sugar plums!
Have a Hot Cocoa and S'mores Night
Get cozy in your Hayden home with mugs of hot cocoa and s'mores. Oven-baked s'mores are a great alternative if you don't have a fireplace. You can combine this fun activity with another! Try a holiday movie marathon, listening to a holiday audiobook like A Christmas Carol, How the Grinch Stole Christmas, or The Nutcracker and the Mouse King, or having a board game tournament.
Send Holiday Cards
Holiday cards are a great way to update your loved ones on what you've been up to this year. If you're feeling crafty, you can have the kids make their own cards to give out. If you want to spread some holiday cheer beyond your social circle, you can also create holiday cards for the local community. Reach out to area nursing home, veteran's home or children's hospital and ask if they accept holiday cards. If there isn't one in your area, you can find organizations online that accept cards for several groups.
Have a Holiday Tree Decorating Camp-out
Extend the fun of decorating the tree into the night! Once the tree has been decorated, pull out the sleeping bags and have a family sleepover around the tree. This is especially fun if you schedule the sleepover on the same night you decorate the tree.
Read a Book
December is usually a slower month so it's the perfect time to do some reading. Introduce the Icelandic of Jolabokaflod or "Christmas Book Flood" to your family this year. This tradition, dating back to World War II, involves giving 2-4 books as presents on Christmas Eve and then spending the evening reading together.
The holiday season is a special time for many people. Creating your own family traditions is a great way to feel more connected. Any of these fun and whimsical ideas are bound to bring some holly jolly joy to your family this year.
If a new home is on your wish list this year, Hayden Homes can help! We have new homes for sale throughout Washington, Idaho, Oregon. We're looking forward to helping you find your dream home!